Every New Year invites us – and reminds us – to bring our best selves and our diverse talents. Arriving on the heels of a year that brought so much upheaval and disruption, 2021 will likely (hopefully) give us many opportunities for healing, growth, and service.
Though we don't know exactly what this new year will bring, we know what we can bring to it. Throughout the early part of each year, I like to take time to reflect and look forward to how we can be the very best, most trusted, and most loved partner to you and for you. We challenge ourselves to support you in ways that will continue to bring you even more value and make the greatest difference to your business.
As Rocketeers we work every day to embody Our Core Values and dedicate ourselves to deliver on Our Customer Commitment and Product Promise which defines the Rocket Experience.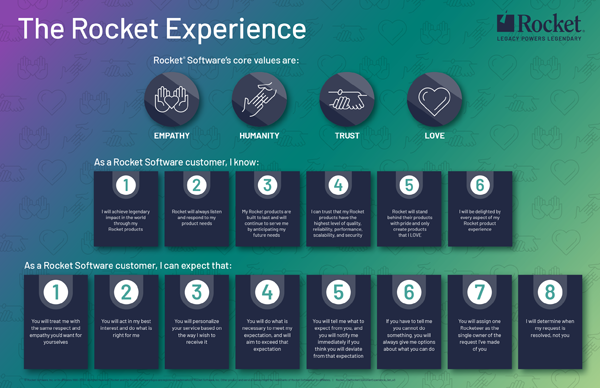 Click to view full-sized image
I'm filled with optimism knowing that the heartbeat of the company pounds strong with the passion of more than 1,400 Rocketeers who are singularly focused on enabling legendary outcomes for our customers. Engaged employees build better products for you, create better outcomes for you, and deliver a uniquely better experience for you.
For us, employee engagement is the foundation of everything we cherish. To ensure we're tracking – and continually improving – engagement of our employees, we conduct an annual Rocketeer Engagement Survey. But it's actually much more than a survey; it's a cycle of improvement and actions.
The cycle starts with a survey in which we encourage all Rocketeers to participate. Then, based on the survey results, we collectively choose areas where our Rocketeers tell us they want us to improve. Rocketeers then self-select into working groups where they design and implement changes to drive those specific improvements in our company.
And we repeat that cycle – participation, survey results, analytics, working groups, design changes, implement improvements – each year, year after year.
I want to share with you some of the legendary results from our most recent survey.
96% of our Rocketeers chose to participate in our seventh annual engagement survey – a truly legendary participation rate!
85% of our Rocketeers are engaged.
88% of respondents believe that Rocket has a successful future.
83% would recommend Rocket as a great place to work.
82% of Rocketeers believe there are effective ways of communicating and sharing information across the company.
We're proud of these results. We're even more proud that our Rocketeers openly provide feedback on how to make Rocket an even greater place to work. Here are some of our 2021 improvement initiatives:
Design and launch even more and impactful diversity and inclusion programs.
Now that we're working from home, let's continue creating new and better ways to connect with our local communities.
Enhance and deliver new ways for individual contributors to be recognized and rewarded for job performance and continue to help our Rocketeers grow and achieve their ambitions as they develop and grow in their career journey.
Strengthening our culture of engagement is everything at Rocket. The value we place on highly engaged Rocketeers provides inspiration to drive emotional commitment and passion to go the extra mile for our customers and partners. For us, it comes down to empathy, humanity, trust and love – for each other, for our customers; for our partners. That is what's at the heart of the customer experience we deliver.
We will continue to make the investment in our Rocketeer engagement cycle as a privilege of serving you. The real measure of success may ultimately be in the small choices we make each and every moment to act and do the right thing for each other – our Rocketeer colleagues and our customers and partners.
Onward and Upward,

This month, in celebration of Valentine's Day and as a nod to our Core Value of LOVE, I'm including some of my favorites.