Rocket Software powers the world's most innovative companies
We help customers in all industries solve their most complex IT challenges, across infrastructure, data, and applications — with solutions that simplify, not disrupt. Regardless of your industry or location, we help modernize in place with a hybrid cloud strategy to accelerate and optimize your modernization journey while meeting evolving market needs.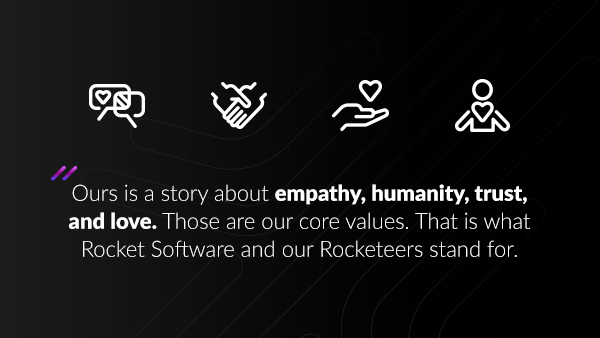 Our values
We put the people behind the software first
Respect is at the center of everything we do. From your first visit to our site, to your first hello with our team, every interaction is built upon our values of Empathy, Humanity, Trust and Love.
Our partners
Building a community of innovation
Fulfillment, reseller, systems, and more. Rocket Software partners combine industry expertise and best-in-class technology for high-growth solutions.
Learn more about Rocket Software
24/7 support
Get the help you need, whenever you need it — whether you're a current customer or just starting with Rocket Software.
Red Sox sponsorship
We're proud to be Massachusetts-based. Our Boston Red Sox sponsorship was born out of that pride of place.
News and press
Check out the latest news, updates, press releases, and current happenings from Rocket Software.