Highly available, robust access to critical IBM i applications and data
Reliability at a fraction of the cost
Rocket iCluster high-availability/disaster recovery (HA/DR) solutions ensure uninterrupted operation for your IBM i applications, providing continuous access by monitoring, identifying and self-correcting replication problems.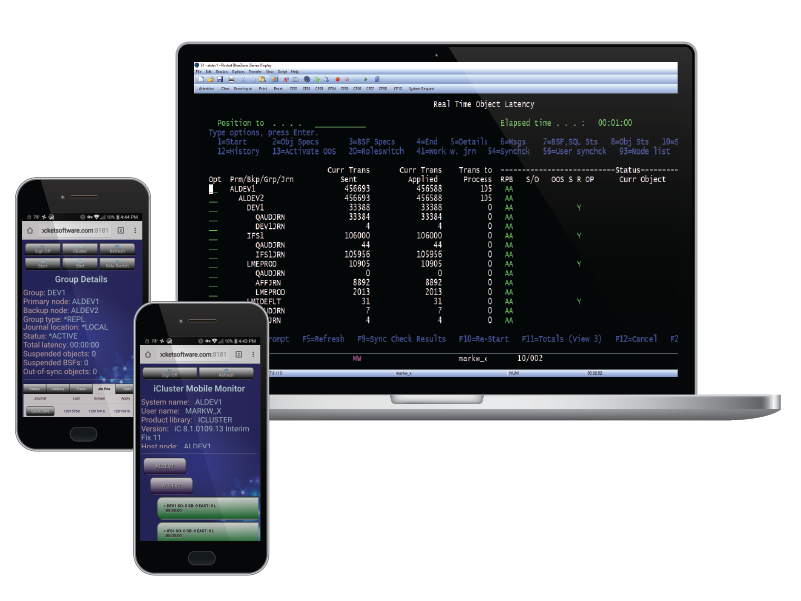 iCluster's single-point, multiple-node administration console monitors events in real time
Confidence in your IBM i availability is paramount
Rocket iCluster reduces downtime related to unexpected IBM i system interruptions, with real-time, fault tolerant, object-level replication. In the event of an outage, you can bring a "warm" mirror of a clustered IBM i system into service within minutes.
iCluster ensures a high-availability environment by giving business applications concurrent access to both master and replicated data. This set-up allows you to offload critical business tasks such as running reports and queries as well as ETL, EDI, and web tasks from your secondary system without affecting primary system performance.
Proactive issue notifications and self-correction for replication problems help your team identify and address potential issues before they affect the system availability or recovery solution. The administrative capabilities in iCluster help staff easily configure and perform operations such as starting, ending, and switching replication groups, saving time and removing some of the risk associated with manual processes.