Annual innovation and coding competition
Rocket.Build began in 2013 as a small hackathon taking place during the Rocket Leadership Summit event. The first class of Rocket.Builders worked around the couches and coffee tables of the hotel where the summit was held. Nearly 100 Rocketeers from nine different countries were given an endless supply of coffee and five days to build something that could make a difference for our customers. What made that first Rocket.Build so unique, and so well loved, was the way it connected developers of various experience from all over the business for a common goal—build something meaningful.
In the years since the first Rocket.Build in Boston, it's only gotten bigger and better. Now, the spirit of Rocket.Build has grown to include not just Rocketeers, but our entire customer, partner, and student networks. No longer an annual event, Rocket.Builders are innovating year-round, all over the world, in Rocket offices and in their local communities.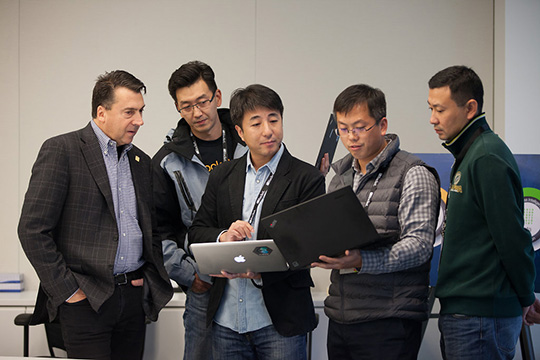 What is Rocket.Build?
Rocket.Build is our annual hackathon, where developers from around the world focus on solving some of the biggest problems in the technology space. Historically an internal event, we're opening Rocket.Build to our customer, partner, and student networks. Now, any team of problem-solvers interested in building software solutions that solve real problems for real people is invited to submit a project idea.
Accepted teams will join us at our Boston-area headquarters to compete with Rocketeers and peers from around the world, and will have five days to bring their project ideas to life. On the last day, we'll announce the winners and celebrate together.
2019 Themes
Think you (or someone you know) can hack it at Rocket.Build Global 2019? Get inspired by this year's themes:
AI-driven next-generation experiences
Deep data discovery
Disruptive user experiences
Re-imagine Rocketeer Experiences