Integrate and virtualize data
Rocket mainframe data virtualization tools create virtual views of combined data from your mainframe and other enterprise sources to gain real-time insights into information business leaders need to understand risks, customer needs, and market opportunities.
Modernize Extract, Transform, and Load (ETL)
Replace costly, time-consuming ETL altogether, or optimize your existing ETL processes to provide real-time data in place of your largest batch jobs and reduce mainframe ETL costs.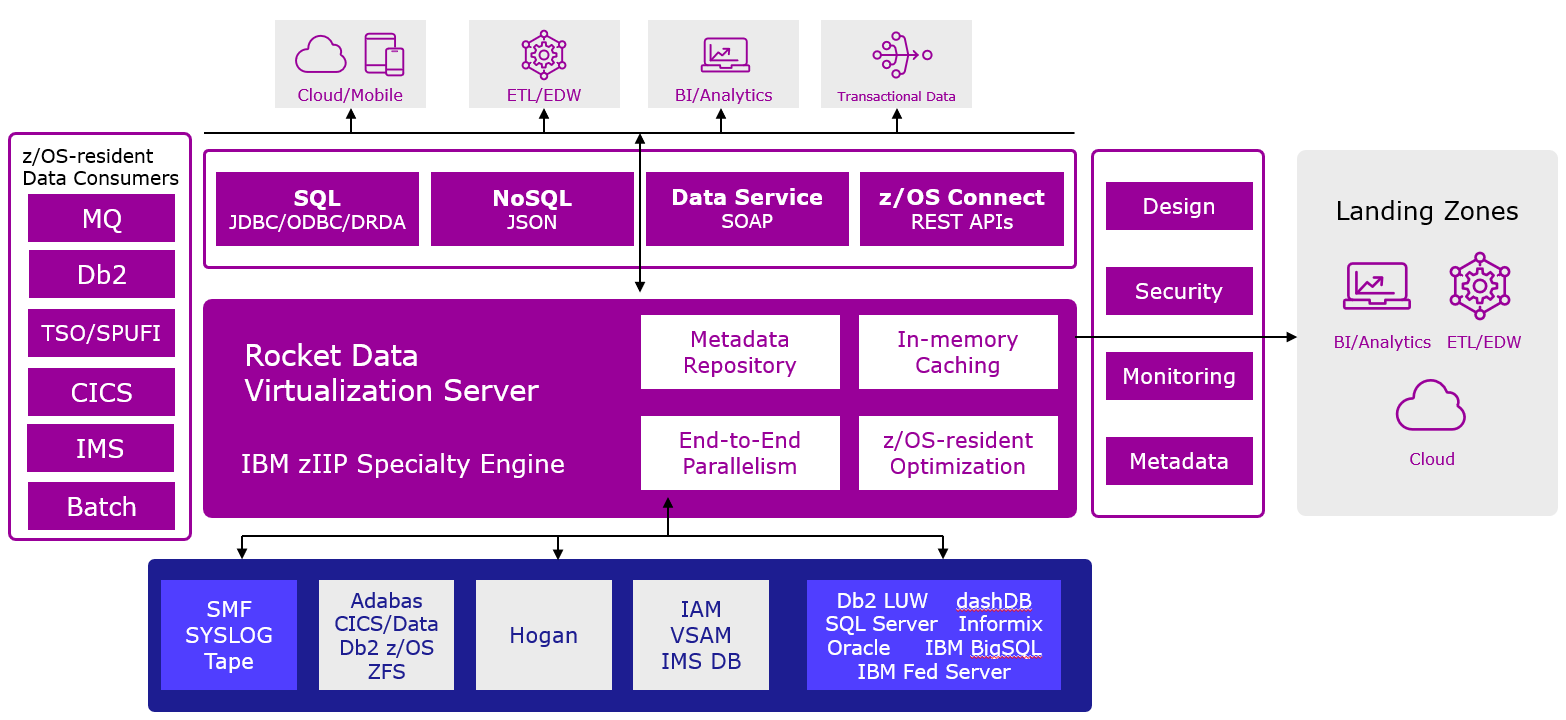 Efficient Data Virtualization Software
To successfully compete, businesses that rely on mainframes need immediate, real-time insight into their customers, the market, and how the business itself is operating. Access to real-time data helps business leaders make faster, more informed decisions. Because enterprise data is distributed across multiple platforms, formats, and locations, many organizations find it difficult to quickly identify new revenue opportunities or respond to threats.
Historically, businesses extract, transform, and load (ETL) data into a data warehouse. ETL-related data movement consumes nearly 20% of total mainframe processing capacity. Using ETL to access mainframe data is no longer efficient or responsive enough to meet the requirements of real-time advanced analytics, cloud, and mobile.
Rocket mainframe data virtualization software resides directly on the mainframe and provides real-time access to mainframe data in any format, enabling your IBM zSystems® to support digital transformation with real-time data for mobile, cloud, and analytics.
RDV simplifies the process of combining enterprise data to create virtual views. It enables organizations to gain faster insight into customer buying preferences, service issues, and real-time threats of security breaches.
Up to 99% of RDV data virtualization processing runs on the IBM zSystems Integrated Information Processor (zIIP) mainframe specialty engine, bypassing the mainframe General Purpose Processor—for significantly reduced mainframe TCO.