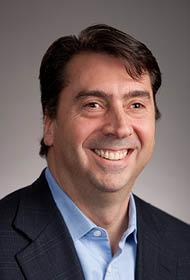 December 2013 - January 2014
To our customers, partners, colleagues, and friends,
I am going to start this letter by thanking each one of you for the trust that you put in Rocket.  Thank You!  Thank you for choosing Rocket to be a part—a little part or a big part—of your successes this past year.  And we look forward to being a part of your many successes in the coming new year.
As I talk to many of you about 2014, I hear many of the same themes:
"How am I going to leverage my data—big data, little data—to gain a competitive advantage?"
"What is the right balance to strike between on-premise, off-premise, and hybrid software deployment?"
"How can I achieve even lower total cost of ownership, while increasing service delivery levels to my constituents?"
"My budget is not increasing, so how can I best reallocate resources to achieve maximum results?"
At Rocket, we understand these challenges.  We can help you.  We will put your agenda first—because at Rocket, we don't win unless you win.  You can count on our team of talented Rocketeers to put themselves in your shoes and spend the time to deeply understand your problems and challenges, and most importantly, your business objectives.
I've compiled this top-10 list of problems, challenges, and solutions that I think will resonate as you reflect on 2013 and plan to execute your agenda for 2014. Don't hesitate to call on us. We have a very broad and deep portfolio of products and solutions, with 1,100 Rocketeers that just might surprise you with what they can help you accomplish.
Andy's Top-10 List for 2014
Spending too much moving data off-platform?  Have you been told that analytics on-platform is too costly?  With Rocket Data z/SQL, you can keep your data where it resides and instead move your analytics closer to the data.  All with higher performance and lower cost.
 
Want to easily, quickly, and securely share files?  Do you currently have the control, audit logs, and ease-of-use that you require?  Try Rocket R/Link.  It is easy to install and even easier to use.  I use it every day, with the assurance of security, auditability, and on-premise control!
 
Finding it difficult to manage all of your backup and data protection systems?  What data and applications are at risk?  What resources are required to support your critical systems? Rocket Servergraph brings together key data points from across your entire infrastructure to quickly identify and resolve issues, lowering risk, increasing availability, and improving business assurance.
 
Are you paying too much to your existing terminal emulation vendor?  Let us save you money—budget that you can redeploy for other projects—with our suite of excellent Rocket terminal emulation products.
 
Does this sound like your world: data growth, data sprawl, expensive storage hardware, ineffective  use of storage tiering? Rocket Arkivio can tell you what data you have, and also how that data is being utilized across your fast growing unstructured data environment. 
 
IBM i customers searching for a cost effective and world-class high availability solution should look no further: Rocket iCluster is your answer—a compelling solution that delivers great value.  Note: iCluster is no longer offered by IBM—come talk to us and we will connect you quickly and seamlessly with our partner channel.
 
Does your application—and business!—depend on a MultiValue database, language, and/or application server?  If so, you are like thousands of great companies who depend on Rocket D3 and Rocket U2 every day to run their business on our MultiValue technology.  Whether your are new to Rocket via our most recent acquisition, or if you've been a MultiValue professional for the past 20 years, give us a call so you can learn how to get even more value out of your MV investment.
 
Swimming in data yet having trouble locating what you're looking for?  Are you letting unstructured data go to waste?  Discover Rocket Folio/NXT and see how easily our powerful indexing and navigation features make unstructured data available and more valuable.  And find out why our customers find other search engines to be lacking. 
 
Are you looking to deliver information to the right people at the right time to make an impact on your business? Or, keep your finger on the pulse of key initiatives—even while you are on the move? Rocket can help you visualize and align your resources to ensure you meet your 2014 strategic objectives. Connect with us today to drive business impact in 2014—leveraging Rocket BI and Rocket Strategy Management solutions.
 
How are you keeping up with the accelerating pace of application change? Did you know you can automate and manage the entire application change lifecycle across all of your platforms with Rocket Aldon Lifecycle Manager?  Think of it as an ALM "hub" or "safety net", a focal point for development visibility, control, and auditability.
 
(A good Top-10 list always needs an eleventh item, right?!) Are you using the new IBM Db2 Analytics Accelerator? Did you know IBM recently announced their new utility—IBM Db2 Analytics Accelerator Loader—that loads data into the accelerator without interrupting access to your production applications?  And according to IBM, it is fast—both in terms of CPU and elapsed time.
Thank you again.  I know you have many software suppliers to choose from.  We work hard to be the best partner we can possibly be for you.  I want every interaction you have with Rocket to be exceptional.  If you do not feel we are living up to that—if you feel we can do better—please call me.  That simple phone call can be the beginning of our long lasting relationship, partnership—and friendship.
Congratulations on all you accomplished in 2013.  And I wish you even more success in 2014.  
Sincerely,
-Andy
Andrew J. Youniss
President and CEO, Rocket Software, Inc.
---
Letters archive:
October 2015 | September 2015 | August 2015 | July 2015 | June 2015 | May 2015 | April 2015 | March 2015 | February 2015 | January 2015 | July 2014 | Apr 2014 | Mar 2014 | Dec 2013 - Jan 2014 | Oct 2013 | Jul 2013