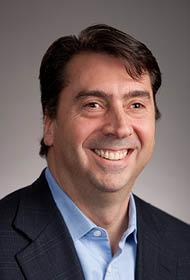 October 2013
To our customers, partners, colleagues, and friends,
2013 is shaping up to be another banner year for Rocket Software. We are just starting our fourth quarter, but I can tell you that our third quarter results showed growth in almost every category that we track.
We continue to maintain our laser focus on our core value of putting YOU—our Customers and Partners—First.  Your agenda is our agenda, and a win for you is a win for us.  We believe deeply in this core value.  And based on our first three quarters of this year, we are providing solutions to more customers and partners today than any time in our 24-year history (yes, we celebrate our 24th birthday in April!)
Another one of our core values is what we call One Rocket.  We work hard to ensure that our organizational structure and boundaries do not get in the way of providing you the best service and solutions in the industry. We bring the total value of One Rocket to bear to solve your important business problems and help you compete and succeed.  I want to know if you think we are doing this well or not.
Our third core value is Rocketeers are the Difference.  We continue to add and develop exceptional talent on our global team. I encourage you to take advantage of what our experienced and expert Rocketeers have to offer. 
Next month, Rocket will again be the Marquee Entertainment Sponsor at the IBM Information on Demand event in Las Vegas, starting November 3.  We are excited to meet you at IOD!  Over 50 Rocketeers will be at the event in various capacities, hosting sessions, demonstrating products, talking about our solutions, and connecting and collaborating with as many of you as possible.  Perhaps one of you will go home with our custom Rocket guitar giveaway at this year's "FUNfest"!
If you are coming to IOD, definitely stop by our booth to learn more about Rocket.  Set up a meeting with me or one of my Rocket colleagues.  We want to hear from you and learn how we can be more helpful to you and your IT and business agenda. How can we help you with Big Data, Mobile, Intelligent Infrastructure, Mainframe Universe, and Cloud?  And, we will also have many of our product specialists on hand if you want to take a deeper dive into specific solutions, products, features, and functions.
Thank you for your interest in Rocket.  And, thank you for your trust and your continuing business.  
Sincerely,
-Andy
Andrew J. Youniss
President and CEO, Rocket Software, Inc.
---
Letters archive:
October 2015 | September 2015 | August 2015 | July 2015 | June 2015 | May 2015 | April 2015 | March 2015 | February 2015 | January 2015 | July 2014 | Apr 2014 | Mar 2014 | Dec 2013 - Jan 2014 | Oct 2013 | Jul 2013