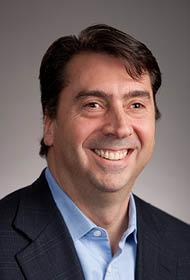 April 2014
To our customers, partners, colleagues, and friends,
Johan Gedda and I had an idea 24 years ago. We wanted to create a software company that would make a difference and would be long-lasting. We also wanted to be rocket scientists – hence our name! Rocket Software was launched on April 16, 1990. I woke up that morning and began writing source code for our first product in a spare bedroom in my house.
We knew when we started Rocket that we were going to make R&D our fundamental focus, and from the very beginning we have done just that – develop and deliver great products that solve real problems.  Based on accelerated customer demand for more Rocket solutions, we added more depth and breadth through a series of acquisitions – 40 so far – designed to broaden the spectrum of products we can provide to organizations around the world.
I am overwhelmed when I think that 24 years ago we had a Rocket community of two; today our Rocket community – a community that includes Rocketeers and all of our families, customers, partners, suppliers, service providers, investors, lenders, friends, and more – has grown so large and so global and so strong. Our community feels like a family. If you are part of it, you know what I'm talking about.
As we begin our 25th year, I am excited that we have more capability than ever before to develop and acquire products that will solve more problems for you, our Rocket customers and partners. Our 1,200 Rocketeers are more focused today than ever before on delivering an exceptional Rocket experience. If we don't meet or exceed your expectations, then we have failed. If we don't put your agenda first and you don't win, then we are not living up to our core values.
Partnering with Rocket should be easy, enjoyable and engaging.  We are good listeners. Let me know how we are doing. Your feedback has always helped shaped what we do.
I think Rocket is a special company. Thank you for creating our history, and thank you in advance for being an integral part of our future.  To 25 years and beyond!
Sincerely,
-Andy
Andrew J. Youniss
President and CEO, Rocket Software, Inc.
---
Letters archive:
October 2015 | September 2015 | August 2015 | July 2015 | June 2015 | May 2015 | April 2015 | March 2015 | February 2015 | January 2015 | July 2014 | Apr 2014 | Mar 2014 | Dec 2013 - Jan 2014 | Oct 2013 | Jul 2013