April 2015: Goin' Social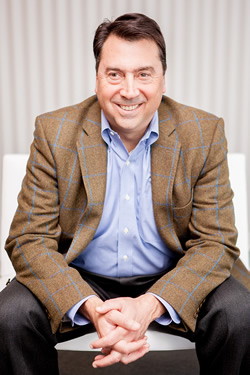 I am spending considerable time this year reflecting. 2015 is our 25th anniversary year and it really is incredible to think about how different things are today compared to when Rocket started. In my recent keynote presentation at our Rocket 25 event in Frankfurt, I talked about many of these differences and mapped them to geopolitical, financial, and technology trends that we have experienced since 1990. The World Wide Web was in its infancy when we launched Rocket. Words like Cloud and Mobile and Big Data and Social Media didn't exist yet.
Think about that. No web. No email. No mobile devices. No social media. How do you launch a company without that? How do you connect with customers and partners without that?
We did launch Rocket. And we did create a community of customers and partners that numbers in the tens of thousands. And today we communicate with everyone – including our 10s of millions of end users – through a wide variety of social media channels. Here are some of the things that Rocket is doing to "beat the drum" that would have been impossible to even dream about when we started the company.
Blogging has revolutionized how we let the world know what Rocket is up to. 25 years ago, the only practical way to share our thoughts and views was to print and mail a newsletter, send it out, and hope that people read it. Today dozens of Rocketeers—including me—post their expert opinions on our company blog, which is read by thousands of people around the world every month. We also contribute content to blogs published by other companies and organizations, which lets our voice get heard by people who aren't directly in our orbit. Blogs are so common now that most of us don't even think of them as exotic, but when I look back to where we were 25 years ago, it's like comparing the printing press to hand-illuminated manuscripts!
I have to admit that I (and Rocket) was a little bit slow in adopting Twitter and other social feeds, but it's rapidly become a core part of how we let our customers, partners and Rocketeers know what we're up to. We now live tweet from many of our own events and tradeshows we attend, and are followed by some of the world's leading technology and business experts. Twitter lets us do things that would have been unimaginable 25 years ago. Back then, people at a trade show or industry conference would have known we were there by seeing our booth on the show floor; today, thousands of people can track what our speakers are talking about, what trends we're seeing, and how we are supporting our partners.
It's impossible to predict what the Next Big Thing in social will be, but Rocket is looking forward to broadening our social presence so we can let the world know about all of the great innovations we're making and the great products we're building.
If you're not already following me on Twitter, you can find me @AndyYouniss. I'm still getting my feet wet, but I'm looking forward to talking to all of you. You can also connect with Rocket on all of the major social platforms by clicking on the links below.
-Andy
Andrew J. Youniss
President and CEO, Rocket Software, Inc.
---
Letters archive:
October 2015 | September 2015 | August 2015 | July 2015 | June 2015 | May 2015 | April 2015 | March 2015 | February 2015 | January 2015 | July 2014 | Apr 2014 | Mar 2014 | Dec 2013 - Jan 2014 | Oct 2013 | Jul 2013