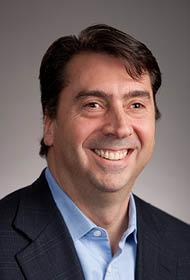 March 2014
To our customers, partners, colleagues, and friends,
We have started 2014 with a tremendous amount of activity.  A few of our highlights include:
Today we are expanding our community of customers, partners, and Rocketeers with acquisition of Trubiquity.  If controlling and protecting the flow of data within your business and among your external partners is important, then you'll want to get to know about our newest technology and solutions.  As your business grows, your most important asset – your data – grows in every dimension.  Technology and business leaders around the world tell me that it becomes harder and harder to manage data – to control it, access it, analyze it, secure it, and share it.  Rocket can help.  And with our most recent acquisition, we can help even more.  Give us a call.
The IBM mainframe turns 50 this year.  To put this in musical perspective, rock and roll has never been the same since the Beatles and the Rolling Stones made their U.S. debut 50 years ago.  Thanks to the rock star engineers at IBM, the computing technology landscape has never been the same since the IBM System/360 was introduced in April of 1964.  We will be celebrating the mainframe turning 50 this year.  More importantly, you will hear and see and read about our perspectives on this exciting platform's future and will put the business and technology trends in context for you.
Cloud. Mobile. Big Data.  That's what you are talking to us about most often these days.  We just attended IBM Pulse, the premier cloud conference, with 10,000 of your business and industry colleagues.  You may have noticed that Rocket was the Marquee Sponsor of this event.  We talked to many of you about cloud, mobile, big data, analytics, intelligent infrastructure, storage, and much more. And because this is what you are asking us about, we are increasing our R&D investment in all of these areas.  We look forward to continuing the conversation throughout this year.
2014 will be an exciting year for our Rocket community.   We will add more customers this year than ever before.  We will have more Rocketeers throughout the world equipped to help you solve more problems and help you drive more business.  You will see more solutions from us, and more solutions focused on cloud, mobile, big data, intelligent infrastructure, and mainframe.
Thank you for your business.  We just launched our new support page and have made more local toll-free telephone numbers available for you to call us.  I will repeat what I said in my last letter and what I talk about with customers, partners, and Rocketeers around the world:  I want every interaction you have with Rocket to be exceptional.  If you do not feel we are living up to that—if you feel we can do better—please call me.  I want to hear from you.
Sincerely,
-Andy
Andrew J. Youniss
President and CEO, Rocket Software, Inc.
---
Letters archive:
October 2015 | September 2015 | August 2015 | July 2015 | June 2015 | May 2015 | April 2015 | March 2015 | February 2015 | January 2015 | July 2014 | Apr 2014 | Mar 2014 | Dec 2013 - Jan 2014 | Oct 2013 | Jul 2013