March 2019
Hello again from the CEO's desk.
I've been remiss in writing my letter for the past couple of months. There is no good reason for this other than time just got away from me during one of the busiest times in the history of Rocket. January was focused on our annual internal kickoff event which (very late in the process) got moved from Boston to New Orleans. There were many highlights of our week together in the Big Easy, but one I wanted to call out was the afternoon and evening we all spent with our IBM partners. We created the time and the space in New Orleans to connect and collaborate with IBMers from all over the globe. Our evening networking reception was a big success. And (of course) The Rocket Band provided the entertainment.
In February we focused on the annual IBM Think event, which was held in San Francisco. Tens of thousands of attendees from all over the world attended this event, which was held outside of Las Vegas for the first time. Dozens of Rocketeers participated in sessions, meetings, demos, and more. The Think Campus was organized around big themes, such as Data and Cloud, Security, and Infrastructure. And because Rocket content is relevant to all of those technology areas, our booth was centrally located in the campus.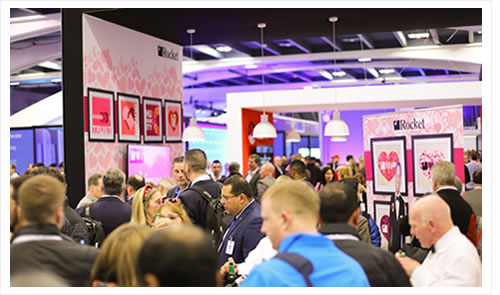 January and February were also dedicated to innovation at Rocket. We have created the time and space to run 15 hackathons around the world so far this year. Hundreds of projects were submitted and worked on, and the top ones have been selected to continue and participate in our global hackathon – Rocket.Build – this coming June in Boston. We are including customer and partner and community projects this year, so let us know if you would like to participate along with us at Rocket.Build in June.
As I write this letter, we are putting the final touches on our second quarter Rocket President's Advisory Council (RPAC) events. Our May RPAC will be in Boston, and we are planning RPAC meetings in Tokyo and London. We are finalizing the lists of attendees, so please let us know if you have an interest in joining us to help set the direction of Rocket R&D investments.
We will celebrate our 29th birthday on April 16th. As has been our custom over the past few years, we will be reaching out to you on our birthday to thank you for working with us and find out from our customers and partners what more we can do to better serve you. 29 years would not be possible without you. So from me to you, from all of us at Rocket to you, THANK YOU.

Andrew J. Youniss
President and CEO, Rocket Software, Inc.
As you probably know by now, I love music. Here are a few of the songs we played at the SKO in New Orleans (and here's the full set list). What's exciting about these songs is that all of them were first-time additions to our show…proving that Rocket always innovates, even when we have a good thing going!


"With or Without You," U2 U2's first US #1 hit was the song that completed the band's transformation from indie/college rock icons to The Biggest Band In The World. The tour for the album – which has sold more than 25 million copies – included 109 shows.

"New Orleans is Sinking," The Tragically Hip Recorded 16 years before Hurricane Katrina, this iconic Canadian rocker was actually pulled from the airwaves by several stations in 2005 after the storm. It was a crowd favorite until the band broke up following the death of singer Gord Downie.

"Driver 8," REM Various members of REM have expressed dissatisfaction with their 1985 album Fables of the Reconstruction, but this lyrically dense homage to the American South continues to be a fan favorite almost a decade after the group disbanded.