May 2019
As we begin our 30th year, one of the accomplishments I'm proudest of is our ability to engage with communities around the world to help people in need. More than anything else, it makes the last three decades feel like we've really succeeded.
To expand our commitment to the cities where we live and work, Rocket created Rocket.Build Community, a series of hackathons that give college students an opportunity to collaborate with Rocketeers to solve local problems including homelessness, transportation, and education.
In the last month we have hosted six events where teams worked with local nonprofits to build solutions to support meaningful causes. And the results have been incredible!
In Boston, more than 90 students from seven schools worked on 14 projects competing in categories including Best Housing Hack, Best Transportation and Mobility Hack and Best Rising Water Impact Hack.
In Dalian, our team helped the Long Wang Tang Residential Community upgrade its information management system to better serve 4,000+ residents. In just two days, nine students from the Dalian University of Technology and the Dalian Jiaotong University collaborated with community workers to create a prototype for an online residential information management system.
In Denver, students helped the Augustana Early Learning Center (AELC) make quality care and education for preschoolers more accessible. With the help of Galvanize, a local coding academy, participants built a new, dedicated site that will bring awareness to the center's services.
In San Jose, Rocketeers teamed up with 42 students from San Jose State University to address homelessness in the Bay Area. There were 13 projects in total.  
In Bengaluru, 33 students from the M.S. Ramaiah Institute of Technologies (MSRIT) participated in seven projects that assisted the Karnataka State Police Department.
In Pune, 20 students from iSquareIT and Cummins worked on four projects for Anandwan, a non-profit organization  that empowers those around the Maharashtra state with self-employment. The teams developed software solutions for Anandwan's inventory management and visitor tracking system.
With the help of instructors from the Austin Coding Academy, 40 students in Austin produced 10 new apps for CarePortal, which will help connect underserved children and families to local community organizations in real time.
Check out what Joe Sacco had to say about Rocket.Build Community in Forbes.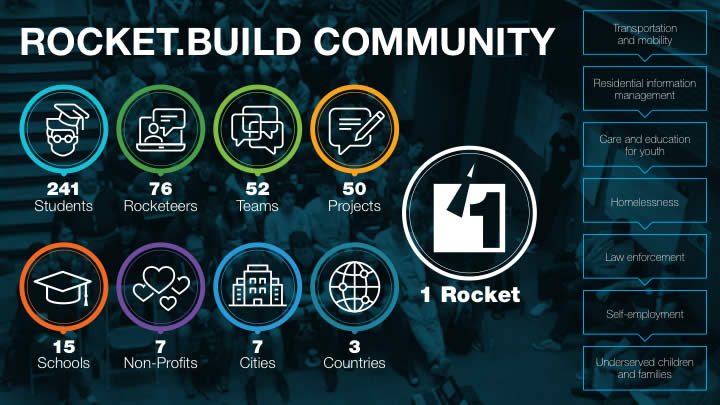 Our partners were also essential participants in the events. From a school for women in engineering to  local coding academies and student-run associations, they contributed valuable time and expertise to the projects in each city. Rocket is incredibly grateful for their support. We are also proud of the Rocketeers who made Rocket.Build Community such a success. And, of course, we were really impressed with the 200+ students who made this all possible with their incredible ideas and perspectives. We're looking forward to continuing – and expanding – this program in 2020 and beyond.

Andrew J. Youniss
President and CEO, Rocket Software, Inc.
In the spirit of working together to reach a common goal, here are some songs that capture how I feel about our commitment to collaboration and cooperation.

"Get Together," The Youngbloods The only hit by this late-sixties quartet perfectly articulates the spirit of the era by imploring, "Everybody get together/Try to love one another right now."

"At Your Side," The Corrs This Irish family band released its first album in 1990 (the year Rocket was founded!) and has been on the charts ever since. This song captures the spirit of Rocket.Build Community perfectly.

"Stand by Me," Ben E. King This classic song about togetherness was recorded in 1960 and has never left the airwaves. Not only does the original remain popular after almost 70 years, but it has been covered by everyone from John Lennon to Florence + The Machine.
"Lean on Me," Bill Withers The great singer Bill Withers – who is still going strong in his 80s – recorded this #1 hit when he was living in Los Angeles and feeling nostalgic for his West Virginia hometown. The song got a second life thanks to a 1989 movie starring Morgan Freeman as an inspirational teacher.