Rocket Cloud Connector
Reduce mainframe storage costs and keep data secure and accessible
Improve business resilience with cloud or on-prem appliances for z/OS® data backup and recovery
Hybrid Cloud Storage for z/OS
Leverage Log-On Software's VTFM-NewGen tape emulation technology to write z/OS® data to a virtual tape library or the cloud. Optionally, ensure only encrypted data is transferred off the platform.
All Software, No Hardware
Remove the need to purchase additional hardware or tools and reduce infrastructure overhead using software-defined hybrid cloud storage for z/OS.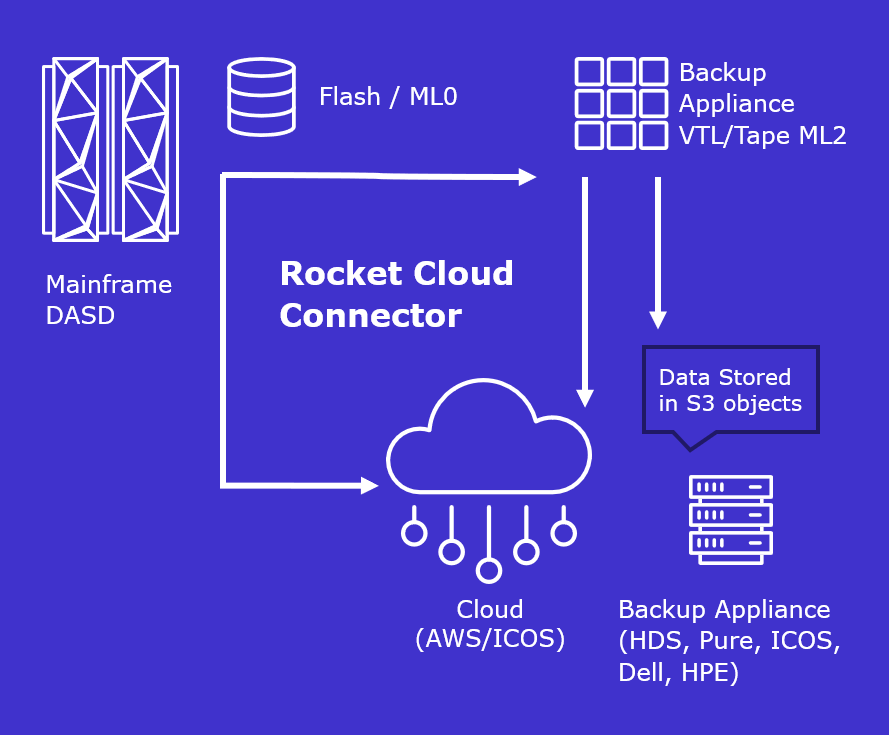 Data storage volume is growing by 65% compounded annually, with worldwide data expected to hit 175 zettabytes by 2025. As data grows, it's being stored for longer periods than ever before. z/OS generates 70% of operational data for banks, retailers, and large enterprises globally.
While critical, this data growth also leads to exorbitant data storage costs, pressure to maintain a healthy data environment, strain on legacy storage solutions, and difficulty meeting compliance.
Moving data that doesn't require constant recall to the cloud helps reduce storage costs. Using the cloud as secondary storage also allows data to be recovered to any disaster recovery site. However, while 35% of organizations plan to use the cloud to help solve these challenges, many can't connect to it from production. Now, with Rocket® Cloud Connector, you can.
Rocket Cloud Connector, leveraging VTFM tape device emulation technology from Log-On Software, gives you the modern hybrid cloud storage for z/OS capabilities to copy and move mainframe data to private or public cloud storage or on-prem storage appliances. This enables you to improve economics for z/OS backup and recovery or archive, as well as improve overall business resiliency in an age where data drives everything.