Rocket TMON®
Optimize mainframe health to support digital transformation and hybrid IT
Manage mainframe performance in end-to-end value streams to ensure healthy performance and availability
Integrate mainframe performance monitoring
Leverage a highly integrated set of mainframe performance monitors to optimize the health, availability, and performance of your IBM Z mainframe operating systems, middleware, databases, and network components.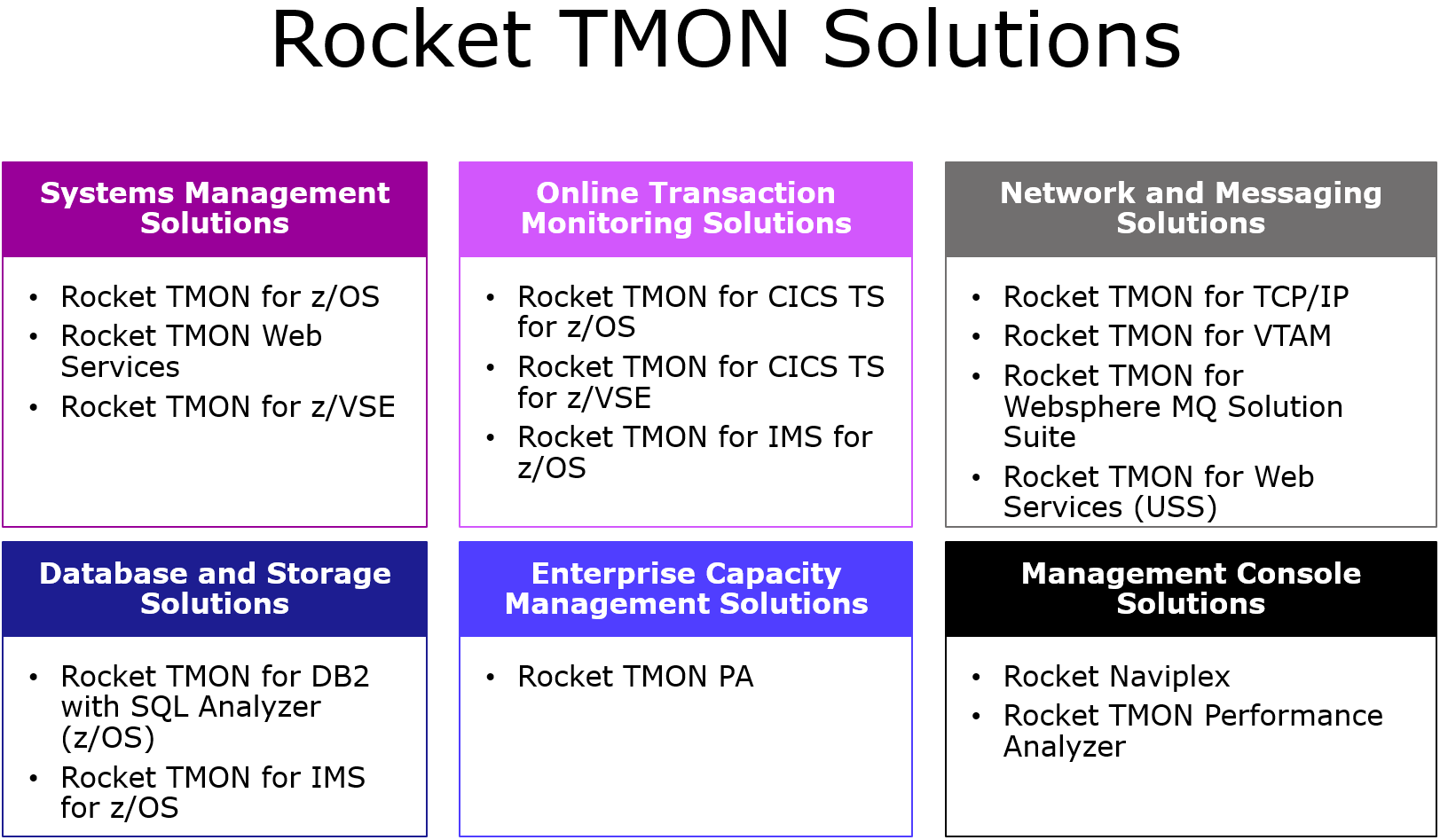 Unify performance and capacity management
Through Rocket TMON ONE, you can unite the powerful capabilities of Rocket TMON with Rocket TMON PA in one suite of multi-platform performance and capacity solutions — from mainframe to cloud.
Your organization's ability to accelerate digital change is dependent on the health of your hybrid IT infrastructure — including mainframe, distributed and cloud systems, all of which must work together to facilitate the flow of value streams your business and customers rely on.
For many enterprises, mission-critical value streams are rooted in the mainframe. As you accelerate digital change, your mainframe workloads will likely grow to support that change. This highlights the importance of why you must evolve how you monitor mainframe health to ensure optimal performance and capacity, and to contain costs.
Rocket® TMON is a highly integrated set of mainframe performance monitors that enable your I&O team to optimize the health, availability, and performance of your IBM Z mainframe operating systems, middleware, databases, and network components, including:
Rocket TMON for z/OS provides enterprise-wide z/OS monitoring and reporting designed to optimize z/OS performance and availability and prevent problems before they occur. It provides real-time performance information on critical software and hardware resources.
Rocket TMON for Db2, along with the SQL Analyzer feature, greatly improve overall Db2 availability by proactively managing Db2 applications and critical Db2 resources.
Rocket TMON for IMS offers a performance management solution that provides the needed insight to quickly resolve complex IMS system and applications issues, resulting in optimized end-user response times and maximized availability.
Rocket TMON for TCP/IP provides real-time and historical performance information on the TCP/IP host—the information you need to manage performance tuning, configuration, and resolve problems.
Rocket TMON for VTAM monitors internal and external influences on the performance of your communications environment, provides in-depth analysis of all VTAM applications, including dataflow and response time information, and displays operating system components that can affect VTAM performance.
Rocket TMON MQ for z/OS complements Rocket TMON MQEE for distributed platforms and provides configuration management, queue administration, exception processing, and performance monitoring for local and remote MQ environments and allows MQ novices to quickly become experts.
Rocket TMON for z/VSE monitors z/VSE utilization and system resources for a continuous view of system performance, including jobs currently running, job resource consumption, storage resources used by a partition, I/O, data sets, phase loading, and delay analysis impacting business systems and applications.
Support your organization's digital transformation with improved mainframe system availability, optimal use of mainframe capacity and reduced costs associated with performance. Keep your mainframe healthy with proactive identification of issues, accelerated mean time to repair, and a complete view of performance across your mainframe systems available through Rocket TMON Health Monitor and Rocket NaviPlex and NaviGraph solutions.