Arm the right person with the right data on demand
With Rocket Servergraph, you can quickly build dashboards that allow you to easily define backup success based on audience and business requirements. You can customize them based on application, user, policy, region and department, including only the relevant data for each audience.
Build custom dashboards in minutes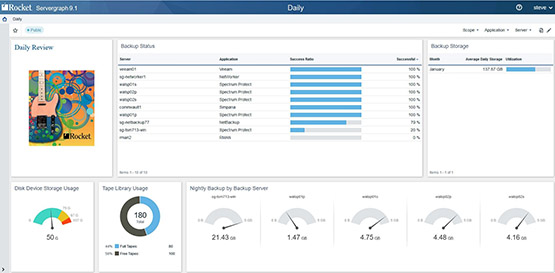 Custom dashboard
Deliver Backup as a Business
With increasing budget constraints, appropriate cost allocation is essential. Servergraph makes it easy for IT teams to consolidate and allocate costs across backup and recovery services using your own customized chargeback models. IT can base chargebacks on user-defined parameters and even create specific billing rates for different media, bandwidth, on-site and off-site storage, and more. Managers can leverage the data to analyze and justify expenditures while presenting internal invoices to various departments and business customers.