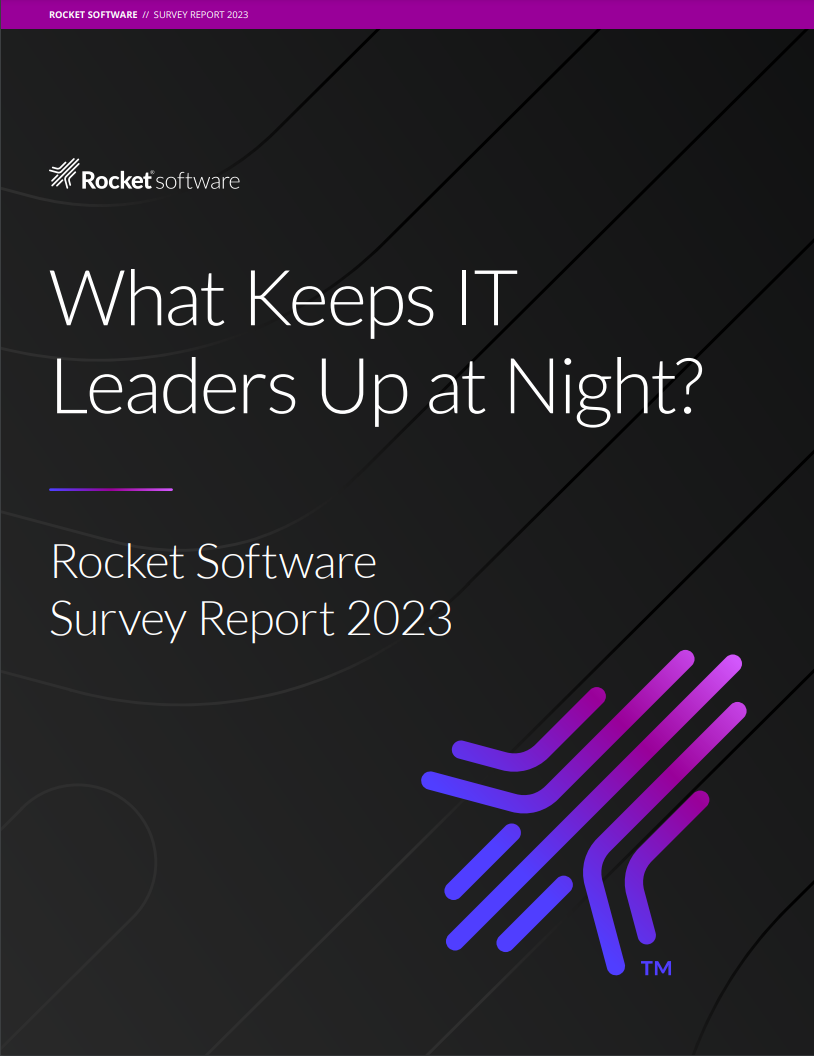 Rocket® Software CIO Survey Report 2023
What Keeps IT Leaders Up at Night?
---
Rocket Software survey finds 60% of IT leaders are losing sleep over improving overall IT performance.
Modernization Dilemma
IT Insights and Challenges
IT leaders know they need to modernize their organizations to keep pace with competition – but knowing how to go about doing that when there are so many new technologies and trends can be overwhelming.
To gain a better understanding of what IT leaders are focused on when it comes to modernization – and what keeps them up at night – Rocket Software, a global technology leader that develops enterprise software for some of the world's largest companies, conducted a survey of nearly 300 U.S.-based IT directors and vice presidents in companies with more than 1,000 employees.
These IT leaders described their current IT stressors, their approach to modernizing their IT infrastructure, and how they plan to become more efficient and optimized in the years ahead.
Read infographic
Efficiency. Optimization. Risk Management.
Increase Overall Outputs Through Efficiency Measures
---
Due to today's economic landscape, 62% of IT leaders have a much greater focus on efficiency. Find out how they're being more efficient.
Optimizing IT Resources Through Infrastructure, Processes, and People
---
All businesses strive to be as optimized as possible. How can organizations leverage digital transformation and modernization strategies to optimize their IT?
Monitor, Manage, and Mitigate IT Risk
---
Mitigating risk requires tools to monitor and manage it—which IT leaders are often lacking. So, how are IT leaders thinking about risk management?
Organizations are modernizing.
93%

---

Of respondents strongly agree with the sentence: "I believe my organization needs to embrace a hybrid infrastructure model that spans from mainframe to cloud."

32%

---

Of respondents are extremely confident that they have the right technology, processes, and people in place to execute an effective approach to IT risk management.

63%

---

Of respondents spend anywhere from 6-15 hours of manual data entry and analysis per week.
Two Steps Forward. No Steps Back
---
No matter where you are in your IT modernization journey, Rocket Software has the right expertise and solutions to get you to where you want to be—without taking a single step back.
Mainframe and Cloud: Organizations are Going Hybrid
---
Leveraging the diversity of solutions available from cloud to mainframe and optimizing each environment to operate together will create the most effective, unified IT environment. Read why IT leaders are going hybrid.
Modernize in Place. Innovate at Your Pace
---
Through a combination of expert insights, customer stories, and conversations, explore the ways in which Rocket Content Services is uniquely suited to help manage data to drive greater cost savings, visibility, and increased agility.