MultiValue is a completely integrated solution, helping organizations to simplify complex application development. The Application Platform supports rapid innovation by consolidating everything (database, security, business continuity, continuous engineering, etc.) into a single platform. The MV Application Platform is able to run on a variety of Microsoft Windows®, and UNIX platforms, including RedHat Linux®, IBM AIX®, and others.  MV systems can be deployed to the cloud or on-premises with either physical or virtualized environments.
The flexible MultiValue data model makes it easy to manage your data, regardless of structure, without requiring expensive DBA support. With native support for Python, and standard interfaces that support Node.js, .NET, Java, ODBC, JDBC, and RESTful services with JSON, your programmers can work in the development environment they are familiar with, making it easy to accelerate application development with MV.
Developers have built thousands of enterprise applications on the MultiValue platform, solving business critical issues for millions of users. You can too.
A platform that presents data in the way you think
Rocket's MultiValue Application Platform helps you turn ever-changing data requirements, complex business rules and processes into flexible, scalable solutions. Because the data is in an intuitive format, your developers don't need to be database experts to create innovative applications. The software applications are easier to build and maximize developers' time.
Traditional relational databases depend on restrictive rules for them to function optimally. MultiValue does not.
MultiValue Platform Architecture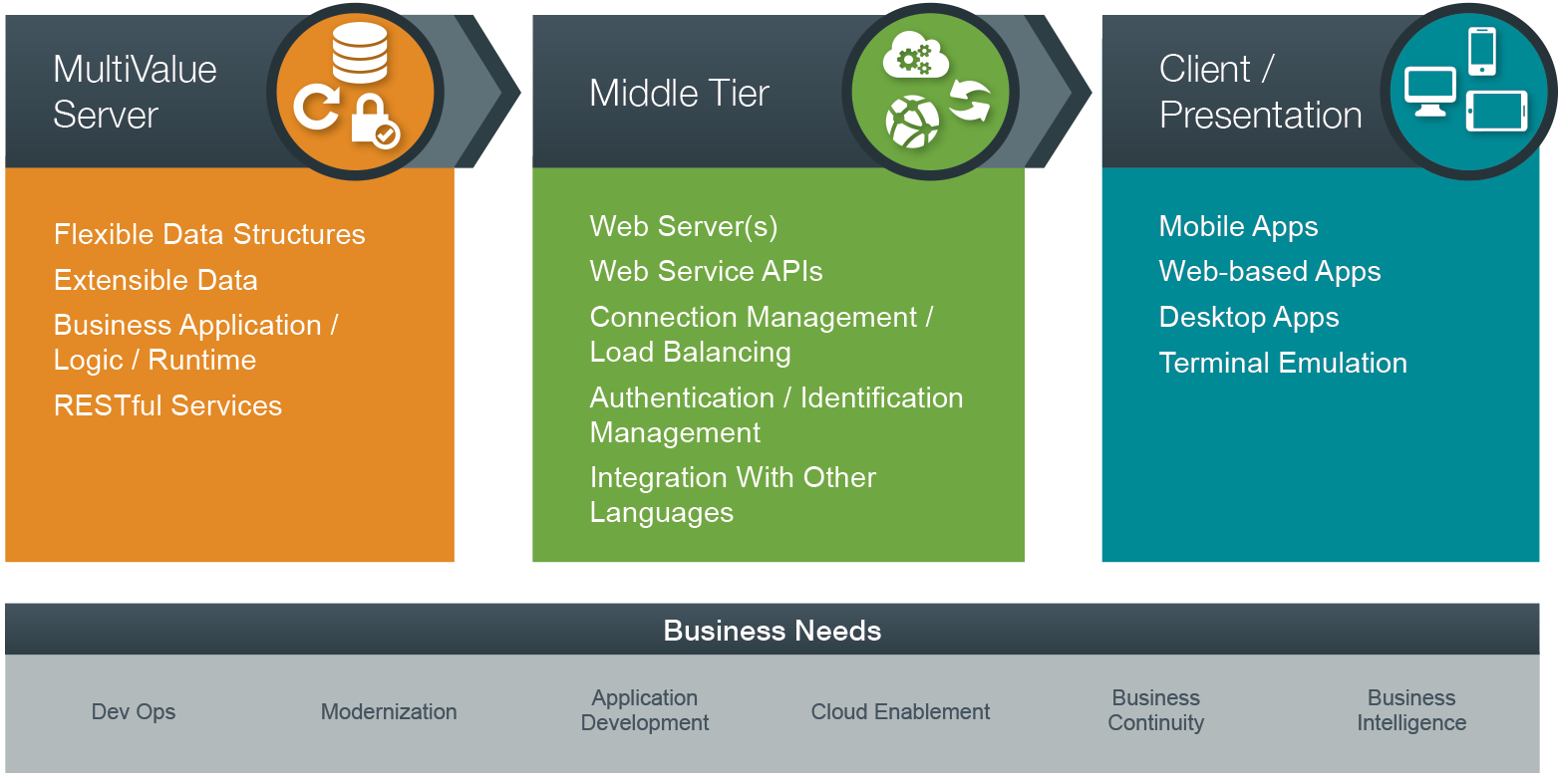 MultiValue Server Tier
The MultiValue Server includes an MV database that goes beyond relational databases by including the variable length tables-within-tables data structure.
The tables-within-tables architecture helps increase efficiency by radically reducing the number of data joins so that all relevant data can be read by accessing one table rather than many tables. This capability reduces I/O requests and results in faster application execution.
With an MV database you define and view data with a data dictionary. Using this dictionary you can easily change and extend the data structure of data records without having to rebuild tables. The tables themselves will grow as your data grows and can be resized without being taken off-line or affecting daily business operations.
An MV database maximizes storage efficiency because it does not require the redundant zeroes and spaces needed as "filler" by traditional databases (which can run to 40-60% of the occupied space).
Industrial-Strength Data Security and Compliance
Security is embedded throughout the MultiValue Application Platform.
The MultiValue platform can be set to automatically encrypt data at rest on the database at the file, record, or field level. This ensures that even if your data is stolen, it can't be accessed or decrypted without the private key. MV also utilizes the latest TLS/SSL encryption to protect data in-transit, preventing packet sniffing. If you want to certify your MV application against the highest security standards, FIPS 140-2 capable libraries are available. For new security threats Rocket supplies modular OpenSSL library updates to mitigate issues as they emerge with the update which may be immediately applied to the server.
Authentication and account management for MV systems can be controlled at either the OS-level, through the MV system itself, or through third-party authentication systems such as OAuth 2.0. There are numerous flexible options to allow for Single Sign-On (SSO) access to the back-end resources.
On the Compliance side, audit-logging capabilities let you track audit histories of assets and events. Depending on your needs, you can configure your MultiValue platform to record specificed activity for HIPAA, HITECH, PCI-DSS, the European Union Data Protection Directive, Basel III, or SOX requirements.
Ensure Business Continuity with High Availability and Disaster Recovery (HA/DR) Configurations
MultiValue Data Server replication lets you deploy highly effective HA/DR implementations. By using a publisher/multi-subscriber architecture you can eliminate downtime from systems being off-line for maintenance, add workloads such as Business Intelligence without effecting performance, and ensure your business can recover from a disaster.
MultiValue Data Servers also support ACID compliance, a reliability mandate that's required by many industries, and is not supported by most NoSQL-style databases.
Middle Tier
The middle tier of the MultiValue Application Platform provides a simple way to integrate your existing MV business logic with other web-based technologies. You can make a RESTful service request to the MultiValue server, which responds with either a JSON or XML formatted reply that can be easily consumed by modern programming languages such as Python and Node.js.
Actively managing connections in real-time is essential to providing a consistently performant experience for end-users connecting to your MV data server.  By handling user authentication at the middle tier, MV data is protected from unauthorized access via the web.
Spreading the workload across the middle and MultiValue Server tiers makes it easy to scale in order to ensure high-volume throughput. For example, many of our retail customers rely on this on-demand scalability to easily ramp up for holiday seasons and other periods of increased traffic.
Client Access Tier
Your customers want to engage with you on the device of their choice. The MultiValue Application Platform provides flexible and secure solutions for mobile or desktop applications—even terminals. Your ability to keep the presentation layer fresh, modern and aligned with customer expectations is straightforward and secure using the MultiValue Application Platform.
Extending the platform with Rocket Solutions
The MultiValue Application Platform is extensible using Rocket- or partner-supplied applications. Rocket Discover delivers the self-service reporting and BI that business analysts can use to fine tune your operations. Rocket Application Lifecycle Management (ALM) and DevOps solutions automate the entire process of software delivery and change management - keeping your MV deployments in sync across your organization as they evolve.
With built-in extensibility, The MultiValue Application Platform successfully underpins thousands of company operations, while easily integrating into your IT infrastructure via standard APIs and interfaces.
MultiValue Databases and Tools
Fast, flexible data management and app development for your enterprise
Data server application platform for fast, flexible and secure applications
The easy-to-use transaction database
Easily create powerful applications for your business