Rocket EDX
We'll take care of your EDI, so you can take care of your business
Rocket EDX, an EDI cloud managed service solution, empowers you to outsource all of your EDI-related requirements, opportunities, and day-to-day tasks, so that you can stay focused on the bigger picture.
As the ways companies are connecting, exchanging data, and automating business processes change, one thing remains the same: your customers and partners are everything. And maintaining reliable digital connections with them will always be essential in keeping and winning business. But business realities, like failing to comply with EDI-related requirements, integrating ERP and other systems, even changing sales strategies or partnerships can prevent you from delivering the consistent and reliable service your business is built on.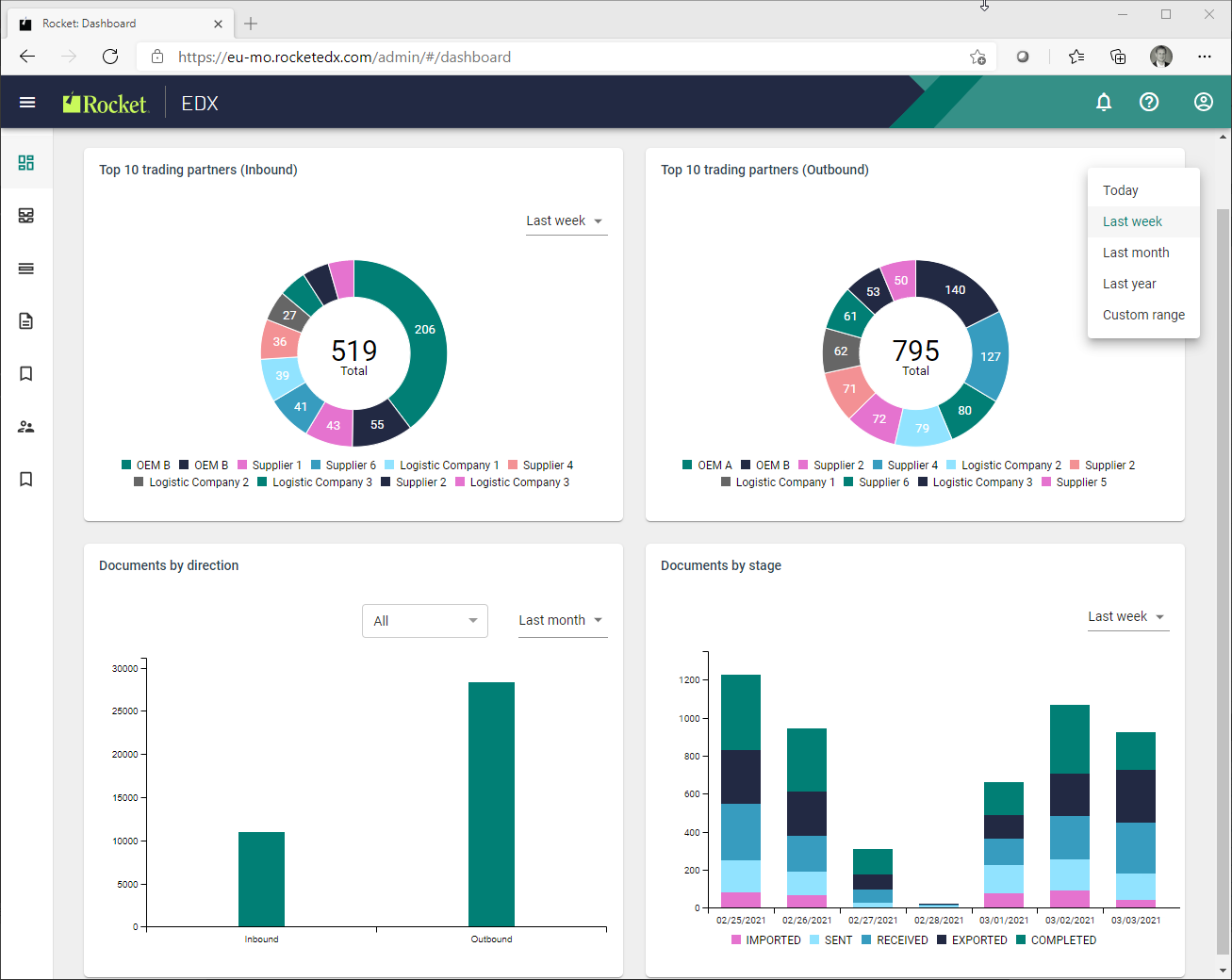 Our clients are able to achieve seamless B2B integration with their customers, supplies, and partners to exchange EDI documents, onboard partners faster, reduce integration TCO, resolve issues with ease, and see real ROI.
With Rocket EDX, you can:
Meet and comply with your EDI B2B integration requirements with a high availability solution that integrates with leading ERP and Accounts/Financial and related systems
Review all of your EDI activities within a web portal, featuring dashboards that give you the reassurance that Rocket EDX is accurately and reliably checking all EDI mapping, translation, and communication activities
Minimize the risk of any supply chain disruptions and charge backs to help your business grow
Making a difference in business and beyond
Across industries and across the globe, Rocket is partnering with businesses like yours to make a difference not only in your bottom line, but in the lives of your customers and partners. From helping our retail partners put food on tables and ship the newest styles to shoppers, to supporting the automotive industry in manufacturing electric vehicles–and even powering health care product manufacturing, sales, and equipment distribution–our solutions drive your success.
How Rocket EDX works for you
Designed to support modern B2B integration demands and multiple industry-specific EDI requirements from retail, to manufacturing, automotive, high tech, warehousing, and logistics, Rocket EDX seamlessly interfaces with many ERP systems and enables customers to manage business documents flow with both EDI and non-EDI enabled trading partners. 
Your business will benefit from the speed and accuracy of processing orders, order acknowledgements, ship notices, invoices and more, making it simple to collaborate with your trading partners located around the world. Anywhere, anytime.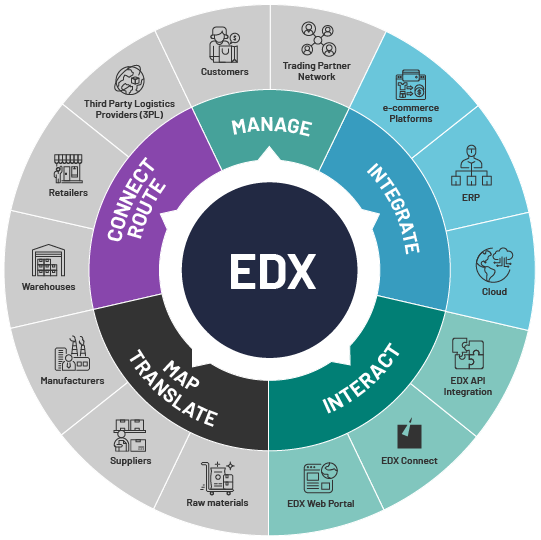 Integrates with your ERP, and supports all EDI standards and communication protocols
Rocket EDX integrates with many different ERP and related systems from a range of well-known vendors to niche and specialist vendors. Whatever business you're using, Rocket's system-agnostic approach will help you achieve a successful implementation.
Supports common EDI message standards
ANSI X12
EDIFACT
VDA
ODETTE
SAP
openTRANS
cXML
xCBL
ldoc
Plus, support for in-house formats and many more standardized CSV and XML formats.
With business systems from vendors such as
Infor
Microsoft
Oracle
QAD
SAP
abas
Asseco
Orga-Soft
ProALPHA
Supports frequently used communication protocols
AS2 (Applicability Statement 2)
OFTP2 (ODETTE File Transfer Protocol 2)
HTTPS (HyperText Transfer Protocol Secure)
HTTP (HyperText Transfer Protocol)
FTPS (File Transfer Protocol Secure)
SFTP (Secure File Transfer Protocol)
X.400
Questions? Call us: U.S. +1 855-577-4323