MVX Release of 1.4.0
November 1, 2022
The Rocket® MultiValue Performance Experience (MVX: Performance) is a free performance monitoring tool for Rocket® UniVerse. It's both simple to install and easy to use. Best of all, it has a short learning curve so you can quickly pinpoint and address Rocket UniVerse performance Issues. Watch for quarterly releases of new features where we'll be adding new monitoring tiles and expanding the critical events that MVX: Performance monitors. This system monitoring tool for Rocket UniVerse is FREE to our customers that have active maintenance on their UniVerse servers.
MVX: Performance helps you identify and escalate performance-impacting events specific to Rocket UniVerse. This tool also includes guidance on possible resolutions along with data snapshots, so you can easily track and address the source of an issue.
We are delighted to announce that we released MVX: Performance 1.4.0 on October 11th. Our new release provides an improved installation and upgrade process by providing an InstallShield wizard for our customers using Windows, as well as an automated installation and upgrade script for customers using Linux. 
In addition, you can now toggle between all non-UniVerse and UniVerse database processes to interact more efficiently with and review system processes.
We've also made a number of improvements to MVAdmin, including the ability to:
Identify the current version of MVAdmin
Check user credentials
Have ideas about what you'd like to see in MVX: Performance or the MV Experiences in general? Besides more performance monitoring, would you be interested in MVX Admin features or Dev Ops features or something else?  Below is a few things we are considering: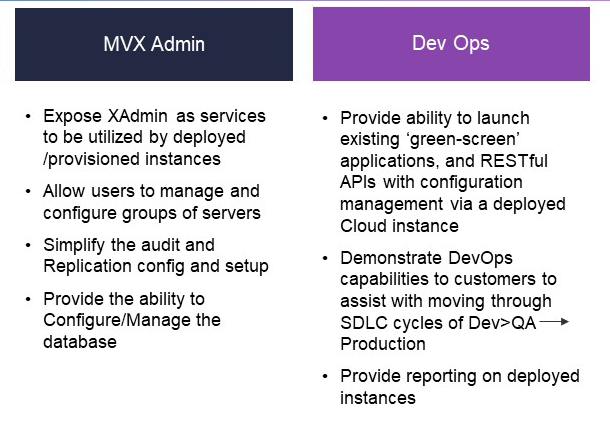 Take part in making the MV Experience tool what you want it to be! We'd love to hear from you. Share your ideas in the Rocket MultiValue Forum. If you don't have an account, it's easy and free to set one up.