Rocket CorVu NG
Enable critical business decision-making
Using Rocket® CorVu® solutions, Business Intelligence technical experts can quickly build dashboards and applications that speed decision-making — no software engineers necessary. Rich visualizations capture and automate the critical business processes that propel business performance. Evolve corporate strategy, and strategically plan improvements with data-fueled decision-making.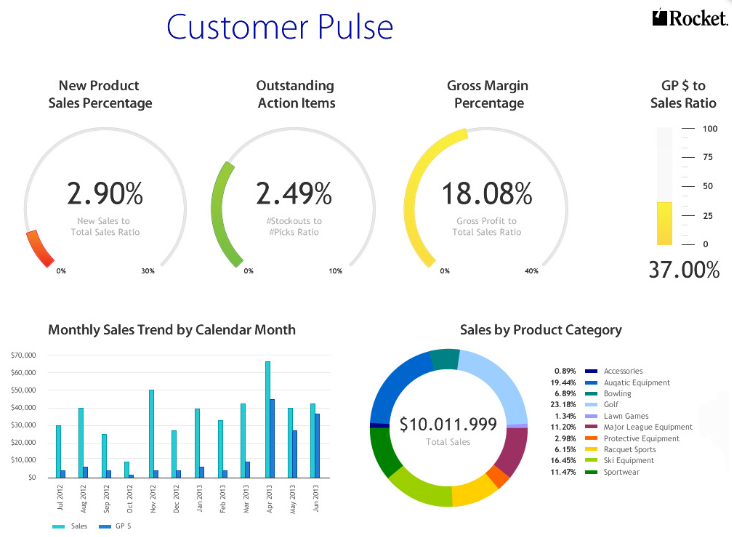 Rocket CorVu Ng
More BI. No more one-size-fits-all dashboards.
Meet the demand for BI dashboards while delivering a tailored dashboard for every audience. Each dashboard will present a fully integrated, up-to-date, easily digested picture of organizational information ready for action. Your dashboards will provide information on a pre-determined schedule or on-demand — always using the freshest data possible because CorVu NG provides real-time, simultaneous connectivity to a range of data sources. Connect directly and return data from those same sources in minutes, without having to build a cube. Corvu NG dashboards can also be used to capture data and write to a data source if needed.
CorVu NG lets you incorporate data from web services, disparate text files, and other data sources. Dashboards can also be placed within web pages and third-party web applications. To help users see how one KPI affects another, your application can provide dynamic interaction with data, so selections in one chart can drive content in surrounding charts. Your users can predictively model business outcomes based on actual data before making decisions. Just apply one or more of our nine out-of-the-box forecast models to a query and start interacting with the generated models to perform "what-if" analysis.  
Easily access, use, refine, and drill down into available reports, dashboards, and data sets on demand. Your users can use the web interface for query and report development, as well as a runtime environment for pre-built dashboards. Corvu NG provides your power users with a robust web interface for query and report development, as well as a runtime environment for pre-built dashboards. A simplified web interface provides your data consumers with a quick and easy way to interact with created content.
Secure and economical
CorVu NG eliminates any worry you might have over the security of your data. Its powerful application security model sits atop your existing database-level security. By connecting to your LDAP/Active Directory or using the built-in security provider, it can control every aspect of a user's interaction with your organization's information. You can even set permissions at the individual level so decision-makers can see it all while others have restricted views.
Having a single tool for data preparation and BI boosts your ROI. Blend, manipulate, and transform data from multiple sources into single result sets or queries to populate your next dashboard.
Imagine the possibilities
CorVu NG has a rich heritage in bringing visualizations to the realm of performance, risk and project management. But it doesn't end there. Take advantage of our templates to build powerful big-picture dashboards that track multiple KPIs. Or dashboards that monitor geospatial performance. Or just say goodbye to "spreadsheet hell."
Already a Rocket customer? Rocket CorVu NG delivers powerful business intelligence, data visualization and high-impact analytics natively from Rocket D3 DBMS, Rocket mvBase DBMS, Rocket® UniData®, and Rocket UniVerse data sources — providing unique value, as well as the insight needed to make fact-based, business-critical decisions. Create stunning visualizations for existing queries, including Rocket SB/XA Queries and Smart Queries
A passport to better business performance
A Rocket CorVu NG solution helps the Passport Office of a large country check the status of its passport inventory quickly, with real-time data. The solution is "critical to the effective management of the network," according to the customer.
As part of its rollout of a new generation of passports, the Passport Office needed a better way to track passport production, measure and report on key performance indicators, and manage passport stock control for more efficient operations. The Passport Office engaged Rocket to support the passport workload management effort with several solutions built on Rocket CorVu NG. 
One solution replaced a paper-based manual process with a digital dashboard that could be used by the country's embassies and consulates all over the world — updated in real-time. The visual application built on CorVu NG allows users in the Passport Office and other parts of the government to verify the status and stock of passport components. Not only does this process reduce the human intervention previously required, but it also creates far better security by allowing all passport components to be monitored and accounted for in real time. The Rocket-developed solution is a modern web-based tool that is accessible by everyone involved in the passport creation and distribution process.