Rocket CorPortfolio
Automate performance report and BI publishing
Rocket® CorPortfolio closes the loop in performance reporting. Business users can assemble disparate collections of BI content into single composite documents. They can distribute these documents as briefing booklets, board reports, online executive dashboards, or even online planning and performance portals. Report and dashboard configuration requires no programming skills of end users.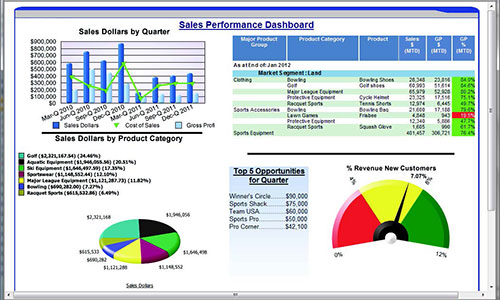 Rocket CorPortfolio
Easy portfolio creation, automated publication
Rocket CorPortfolio was designed with the business user in mind, so it's incredibly easy to create robust, engaging collections. With CorPortfolio, you can combine text, graphics, reports, spreadsheets, video clips, commentary, and other data into a single portfolio. Plus, you can embed any Rocket® CorVu® object, OLE object, graphic, text file, or hyperlink quickly and easily, as well as attach notes and annotations to any object. With a customizable look and feel, and personalized multi-page dashboards and briefing books, any user can look like a portfolio-creating pro.
CorPortfolio automates and streamlines the period-ending reporting process. Users define their outputs and layouts once, and then use the built-in scheduler to automatically update data at any frequency.
Deploy and navigate simply
Rocket CorPortfolio enables you to deploy your portfolio online — in both PDF and HTML formats — as well as through professional-quality print-outs. Simple tab navigation of portfolio components adds to CorPortfolio's ease of use, while interactive drill-down into portfolio objects provides transaction-level detail for additional analysis.
Choose your document style
Rocket CorPortfolio supports a large number of document styles for all of your reporting needs, ensuring that your reports look and feel consistent throughout the organization. Create briefing books, management report packs, board reports, project reports, compliance reports, service level reports, and customer, employee, and supplier reports.