Building The Road For Tomorrow Today: Recapping Rocket Software's The Way Forward Tour
August 3, 2022
My fellow Rocketeers and I have finally returned home after spending the last two months on the road, touring the country for Rocket Software's The Way Forward Tour. The tour kicked off in Boston on May 17th, as we hosted Rocket Software clients and partners at Fenway Park, with the help of our teammates at the Boston Red Sox. From there, I traveled to New York City, Dallas, Chicago and Atlanta, meeting with more than 80 clients and partners from 45 different accounts to connect face-to-face and introduce them to Rocket's vision and plans moving forward.
Each city on our journey brought unique and exciting experiences. The tour brought us to some of the most historic Major League Baseball parks in the country—Yankee Stadium, Globe Life Field, Wrigley Field and Truist Park—and gave us the opportunity to have candid conversations with customers about Rocket Software's product roadmap and vision for the future, while also hearing about the challenges and opportunities they are facing on their modernization journeys.
Here are some of the best takeaways from The Way Forward Tour:
INTRODUCING ROCKET SOFTWARE'S WAY FORWARD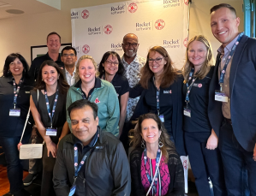 We've had some big changes at Rocket Software over the last year. In October of 2021, I was named the newest CEO. Just before that, in April, we announced our acquisition of ASG Technologies. While these were exciting changes, we understand it's only natural for clients to wonder how their experience with Rocket Software could change as a result.
The Way Forward Tour allowed me and my fellow Rocketeers to share our vision for the company moving forward as well as introduce my go-to-market strategy that focuses on creating simplicity in the face of complex problems for our clients. At each stop, I had the opportunity to partake in unplugged roundtable discussions with clients where I could connect on a personal level with them about the different opportunities and challenges they've faced, and continue to face, throughout their modernization journeys. The insights I received from these conversations were invaluable and are critical to informing our next steps.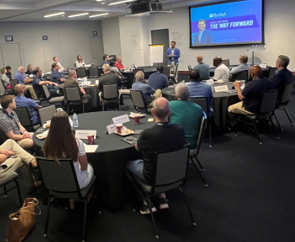 "The customers that attended were fully engaged and collaborative through the entire event. I have been to many events in my career, and this was one of the most personalized and collaborative." – Rocket Sales Member
Following each roundtable discussion, our guests were treated to an intimate VIP baseball experience at each ballpark, including the opportunity to watch a game. To cap each day off, guests were given a chance to meet and greet some of baseball's most historical figures, including:
Boston Red Sox Cooperstown Hall of Famer, Jim Rice
New York Yankees All-Star, Mickey "Mick the Quick" Rivers
Texas Rangers Team Hall of Famer, Fergie Jenkins
Chicago Cubs Cooperstown Hall of Famer, Fergie Jenkins
Atlanta Braves Team Hall of Famer, Leo Mazzone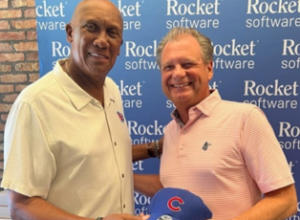 Each guest was also given a VIP goodie bag that included a signed baseball, team ball cap and other Rocket Software branded gear!
WHAT I LEARNED & MY PROMISE TO OUR CLIENTS
When we first set out on The Way Forward Tour, we had two goals: to introduce Rocket Software's vision, ambitions and plans moving forward and to let our clients and partners know that they have a voice that matters to us.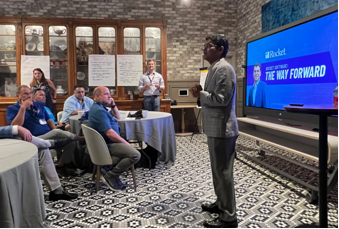 "We are proud of the past and prime for the future" – Milan Shetti
After traveling the country and listening to different clients' modernization journeys, the overarching message was clear: mainframe modernization is a messy but necessary process. While clients realize the obstacles of modernization that lay ahead—a lack of talent, data migration and cloud-based integration—they are ready to embrace the challenges of modernization to reap the benefits of innovative technologies and practices. My message to all Rocket partners and customers is simple: We are with you every step of the way.
Find out more about Rocket Software's partnership with the Boston Red Sox or to learn more about Rocket's family of products, click here.