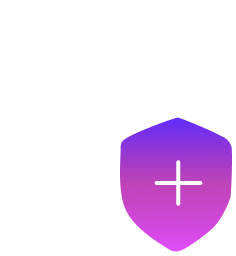 Let's Modernize With Mainframe Security Solutions
Empower your business with unbeatable
mainframe security.
---
Rocket Software survey finds only 28% are highly confident in addressing mainframe vulnerabilities. Choose Rocket Software for unmatched protection against rising cyber threats.
Break Threats. Not Your Mainframe.

Protect against potent threats like trap doors and storage alterations — a necessity for the 67% of organizations deprioritizing mainframe security.

Join the confident 28% swiftly addressing mainframe vulnerabilities and ensuring business continuity.

Align with over 50% of large companies taking a stand against cyberattacks through regulatory compliance.

Threat Detection Automation
Be part of the 69% leveraging data and system access to automate threat detection and enhance security.
WHY MAINFRAME SECURITY
Identify threats.
Before they identify you.
In a complex hybrid IT environment, the mainframe is a bastion facilitating billions of global transactions daily. However, only 33% of organizations routinely incorporate security measures in their mainframe strategies, inadvertently exposing themselves to substantial risks. The current landscape where over 50% of large companies find it daunting to halt cyberattacks emphasizes the pressing need for fortified security measures.
Rocket Software enables you to be among the vigilant 28% who address mainframe vulnerabilities with confidence. Our solutions are designed to identify, locate, and combat the threats that concern 95% of companies today, providing a sanctuary of security in a tumultuous digital landscape. By prioritizing mainframe security with Rocket Software, you safeguard not just data, but the very reputation and operational stability of your enterprise, steering clear of financial, legal, and reputational hazards.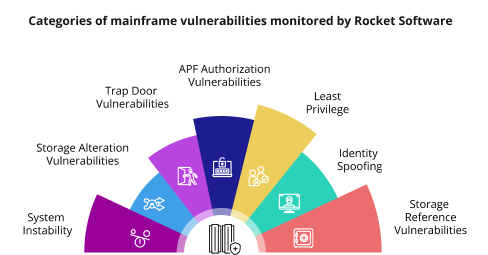 Data System Access. User Authentication. Encryption.
69%

---

of organizations leverage data and system access to enhance their mainframe security.

57%

---

utilize user authentication and access controls to safeguard their systems.

56%

---

apply encryption for data both at rest and in transit to maintain data integrity and security.
Identify, locate, and combat threats: Anticipate vulnerabilities and devise strategies ahead of potential threats that could impact your business.
Automate threat detection: Only 33% of organizations frequently factor security in their mainframe decisions. Be part of the proactive percentile that leverages automation for a robust mainframe security posture.
Intelligent Vulnerability Management: Navigate the challenging landscape with tools designed to manage mainframe vulnerabilities intelligently and efficiently, helping you to stay on top of regulatory environments that impact your mainframe's security.
Compliance Assurance: With a constantly changing regulatory landscape, ensure that you remain compliant while adapting to new regulations swiftly and seamlessly.
Business Resilience: Build a fortress of security that not only protects but ensures business continuity, safeguarding your company's reputation and market share.
MAINFRAME SECURITY FROM ROCKET SOFTWARE
Guard your powerhouse. Without compromising your adaptability.
---
With Rocket Software, securing your mainframe isn't just about defending against threats—it's about evolving to meet the diverse challenges of today's dynamic, hybrid IT environments. We understand that the mainframe is a crucial entity that enables billions of transactions globally, every single day. And yet, it is not impervious to threats that are constantly evolving in complexity and sophistication.
Rocket tips and resources