Rocket MultiValue Performance Experience
Free performance monitoring tool for Rocket® UniVerse
Rocket MultiValue Performance Experience (MVX: Performance) provides a window into UniVerse installations no matter where on the system UniVerse resides. Using a dashboard, administrators and DBAs can keep track of events, user sessions, file and group locks, and host CPU/memory to ensure maximum performance. MVX: Performance also sends you alerts and recommendations to keep performance humming. Like other MV products, it's available to order now in RBC for our UniVerse customers on maintenance (and it's free!).
MVX: Performance Delivers
The performance monitoring tool enables you to:
Address performance issues quickly: Monitor multiple serial numbers – including Cloud-based and on-prem UniVerse instances – all from one screen. When combined with MVX: Performance notification engine and email alerts, it provides a powerful performance monitoring solution

Prevent system slowdown: Numerous record/table lock alerts ensure thresholds are not exceeded

Maximize system availability: Alerts to increase file/transaction log size help avoid crashes

Focus on business: The MVX: Performance notification engine and email alerts eliminate the need for a person to sit in front of a screen while monitoring

Improve user experience: Performance monitoring, notification, and proactive measures ensure that UniVerse runs at a maximum level, improving user efficiency and experience
Mission Control for Rocket UniVerse
In addition to the Events tile, MVX: Performance includes monitoring tiles that actively monitor issues with Sessions, Locks and Host CPU/Memory, plus allow for a deep dive into specific Process IDs (PIDs).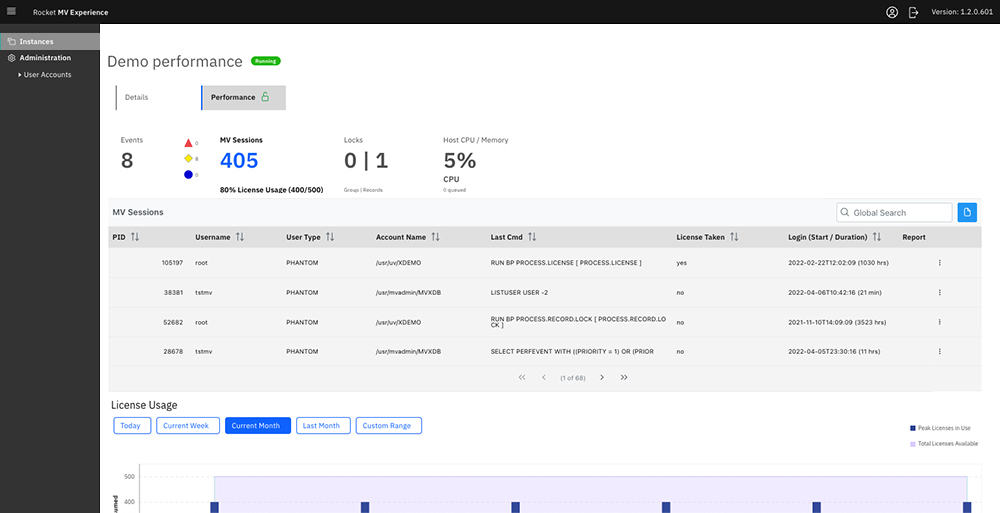 With the Sessions tile, you get a more in-depth view of the specific Process IDs (PIDs) that have been running on the system.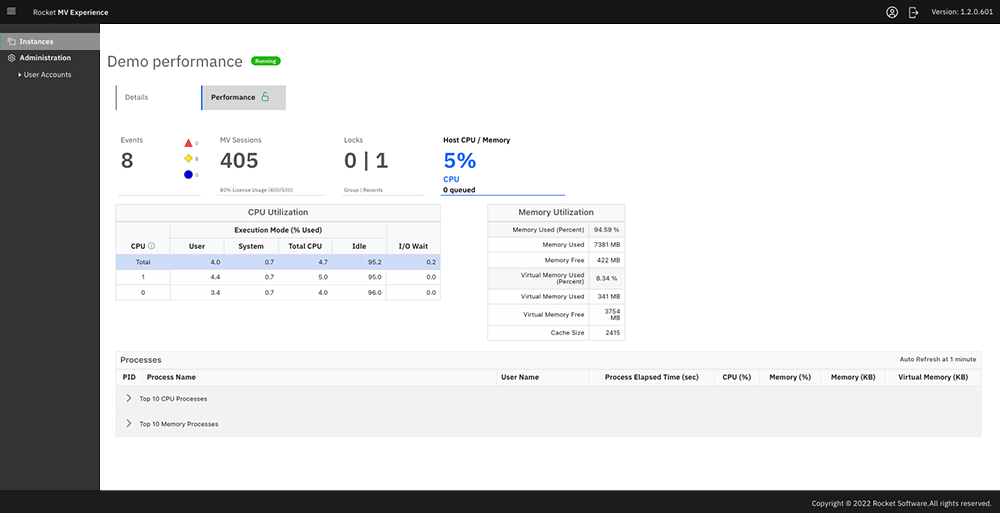 The Host CPU Memory monitoring tile shows CPU and Memory consumption and the number of processes queued.
Upgrade for Advanced Features
In addition to FIPS, Audit Logging updates, an ADE Tool to validate encryption, and incorporating Python v3.9.2, we specifically built UniVerse 11.3.4 to work with Rocket MultiValue Performance Experience. MVX: Performance identifies performance impacting issues and provides guidance to address them, but only if you upgrade to this release of UniVerse.  
Take advantage of your active maintenance and upgrade to try MVX: Performance. 
Datasheet
Rocket® MultiValue Performance Experience  

Understand and enhance Rocket® UniVerse performance
Questions? Call us: U.S. +1 855-577-4323