Rocket wIntegrate®
Quickly integrate, renovate, or transform character-based applications
Rocket wIntegrate provides a secure and powerful user interface for MultiValue databases. It lets you integrate and transform character-based applications quickly and cost-effectively so that you can revitalize existing applications with a graphical user interface.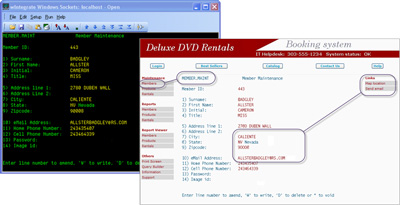 Rocket wIntegrate
An advanced application renovation tool
Rocket wIntegrate is a terminal emulation and graphical user interface development product. It extends the life of host-centric, character-based applications for many years to come by providing connectivity between the end-user systems of today with back-office systems from the past. It can be deployed in a variety of ways—including rich client, thin client, or Java applet—to best meet your organization's needs, and in any combination of Microsoft® Windows® and Java thin clients with the same wIntegrate server.
Rocket wIntegrate for MultiValue databases makes it easy to manage application security, deployment, and monitoring. Once installed, wIntegrate provides client and server-side options for control of the interface and integrations, plus SSL and SSH support keep data secure from login to logout. wIntegrate also offers scripting functionality that automates any of the functionality offered. 
With Rocket wIntegrate, all terminal emulation, GUI interfaces, and user functionality in the MultiValue environment are defined and controlled by a built-in programming language to allow an unprecedented degree of customization. Additionally, server-based processing introduces many benefits, such as client independence, central administration, and connection resilience. A monitoring application allows user activity to be viewed in real time and controlled by authorized users from any PC on the network.
An improved user experience
Rocket wIntegrate improves the user experience with desktop application integration. It integrates with popular Windows desktop tools, providing familiar functionality, and opens new markets through European and multibyte language support. wIntegrate's Query Builder creates, saves, and reruns reports within custom security constraints, and transfers data from MultiValue databases to popular desktop file formats, including MIcrosoft Excel®, Word®, and HTML. 
Reports can be scheduled for timed execution, automatically emailed, or displayed on-screen via the built-in GUI report viewer (or in other applications such as Excel). Intelligent and customizable copy-and-paste functionality lets users copy text from the screen to a variety of other applications and formats.