Rocket Process Insights
Total workflow visibility to help you set modernization priorities
Modernization has been an ongoing hot topic in meetings for a while now. You and your team know it must happen eventually, but the idea feels daunting. You and your team want this project to deliver bottom-line value to the business as soon as possible, and because of the C-level visibility on the project, the pressure is on.
The big question you need to answer is "Where do I start?". Where should you prioritize work and resources to get the most value out of the modernization project for the business as quickly as you can?
Find out quickly and easily with Rocket® Process Insights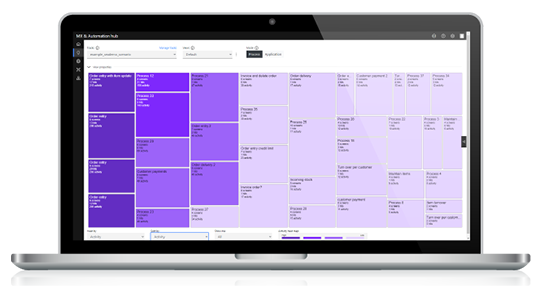 Rocket® Process Insights is a visual tool that enables you to see your workflows in totality, showing you the starting point on your modernization journey. Rocket Process Insights tracks the ways your organization engages with the data and business logic of your IBM i applications, so you can:

Give IT and business leadership a 360-degree view of the functions your IBM i applications perform

Use the information you've gleaned to build a smart modernization plan

Prioritize projects that best deliver higher value to the enterprise
Best of all, this isn't a single-use tool. You can run Rocket Process Insights every time you start a new phase of your modernization plan.
Drive eight types of fast, meaningful gains across your enterprise
Use Rocket Process Insights to:

Boost productivity

Modernize user experiences

Increase job satisfaction

Improve customer satisfaction

Strengthen customer retention

Ensure compliance

Control IT costs

Achieve high ROI
Three things you won't need with Rocket Process Insights

In-house IBM i RPG expertise—the tool can be used by developers and analysts alike

A specific type of terminal emulator—Rocket Process Insights is terminal-emulator-agnostic

Other vendors for execution—Rocket Process Insights is part of a connected modernization portfolio with a central management hub
Experience the Rocket® Software modernization continuum
At Rocket® Software, we've helped our customers do legendary things with their legacy systems for 30+ years. No one knows IBM i apps better. Our experience has taught us that a smart modernization plan demands a synergistic spectrum of tools, not a silver-bullet approach.
That's why we designed Rocket Process Insights to work with Rocket® Modern Experience, Rocket® Process Automation (IBM i Edition), and Rocket® Process Integration. Together, they let you seamlessly move from analysis to implementation of your modernization plan in one smooth, uninterrupted sequence.
Want to get going on modernizing your legacy apps?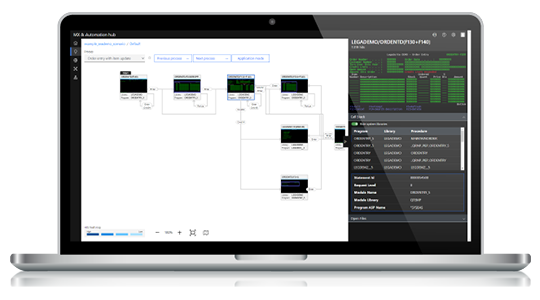 Questions? Call us: U.S. +1 855-577-4323