Rocket DevOps compliance & reporting
Holistic and simplified compliance reporting
Complex regulatory compliance and reporting obligations can be time-consuming to track and fulfill, which raises the risk of non-compliance and the importance of DevOps. Rocket® DevOps  reduces the administrative burden on IT teams by streamlining compliance requirements through pre-packaged templates, permissions/controls, and automation capabilities for audit report generation and compliance analysis.  
 
This allows developers, QA testers, and project managers to confidently drive development work for regulated industries like finance and healthcare. Your stakeholders are also able to improve transparency over code repositories and throughout application development lifecycles, and utilize role-based controls to raise accountability and ensure regulatory compliance across every line of collaboration. Additionally, you can automate the creation of audit reports in real time, using logs and data within Rocket DevOps, which ensures timely compliance and minimal disruption to development timelines.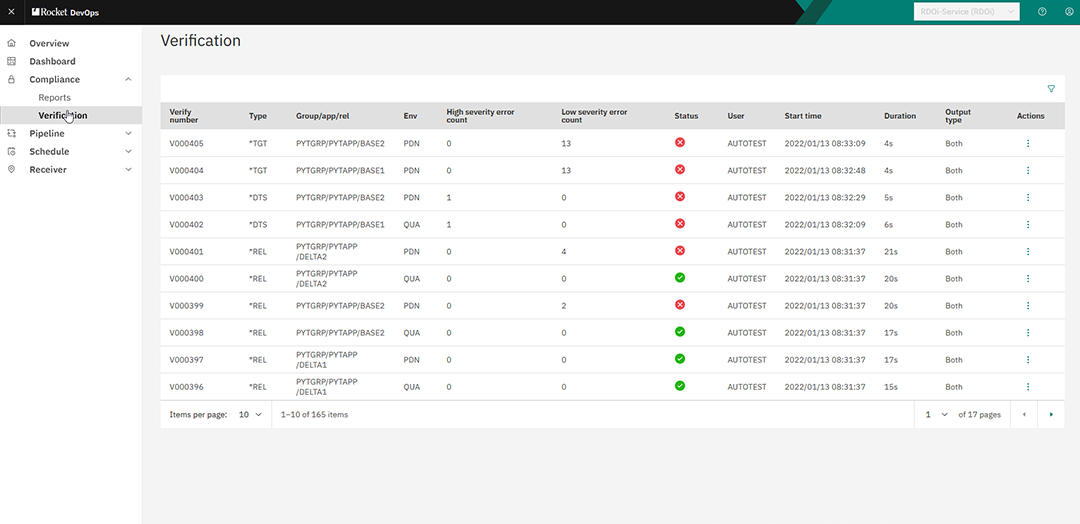 With a holistic view of your DevOps environment, ensuring compliance and generating reports is easy
Release IT teams from time-consuming audits and manual tasks
In addition to standard reporting, Rocket DevOps includes automatic audit reporting tools and ensures achievement of compliance tasks by processing and assigning them to the right individuals for review and approval.  
 
The automated capabilities of Rocket DevOps make it easy to show exactly who has authority to perform which operations. These capabilities also leverage automation with browser-based release management solutions, pre-built templates, and customized reports to gain clarity of compliance levels and ensure consistent adherence to regulations.  
 
Additional features:
Compliance reporting, including authority reports such as permissions by release or user
Other reporting such as:

Report on-time logs against testing, development, etc.
Release activity reports
Deployment activity reports
Work hour reporting
Task activity

Export data via HTML, PDF
Improve transparency and accountability across every reporting line
Consolidate multi-code development within Rocket DevOps and minimize the risk of non-compliance and oversight across every stage of development work. Regulatory stakeholders can use built-in templates and controls to check code as it moves across teams or development stages, allowing for timely remediation before production.  
 
Raise the level of transparency and accountability across development teams by automating reporting and notifications. This streamlines compliance reporting and speeds up time-to-market, as there is less risk of non-compliance in the later stages of development.  
Built-in templates for precise regulatory compliance
Ensure you comply with critical industry or data regulations using built-in templates from Rocket DevOps. With the press of a button, create a report on permissions by user, or on user activity with time stamps, and more.