Rocket HyperVu
Web-enable performance reporting — no training required
Rocket® HyperVu® is a low-cost, highly scalable solution for deploying dashboards, reports, and graphics as easy-to-understand web pages. Users can also deploy specific pages to other formats.
With HyperVu, performance information has a common look and feel, and a common navigational method, across the enterprise.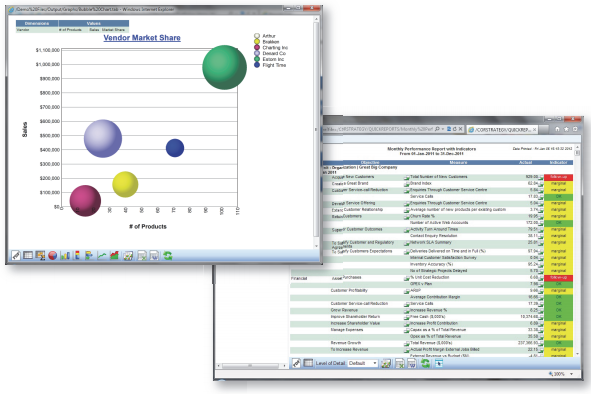 Rocket HyperVu
Publish HTML web pages as intelligent, interactive web objects
Rocket® HyperVu® is your solution for deploying business intelligence visualizations across the enterprise. Using HyperVu, you can embed text, tables, graphics, and hyperlinks into static web pages, as well as provide hyperlinks for information drill-down, giving users a slice-and-dice capability. Plus, related information is available as pop-up text, or by expanding rows or columns as required.
HyperVu is a web-based interface to Rocket® CorVu® BI products that seamlessly transforms queries, reports, dashboards, data entry forms, and scorecards into HTML content that can be accessed via a web browser. In addition to data presentation, HyperVu lets you export underlying content into PDF, Microsoft Excel, or Microsoft Word formats and documents.
Provide a simple view of reports, graphs, tables, and dashboards
With Rocket HyperVu, users can pre-generate HTML reports or generate reports on demand using simple pick lists — no training or technical skills required. Reference-style sheets apply corporate-style settings to all published reports, so your reports always have a consistent look and feel. HyperVu allows you to publish your reports in HTML or print-quality PDF formats, as well as access to briefing books, board reports, and multi-page portfolios.