Rocket CorBusiness
Empower business users with interactive analysis
Now, you can solve all your business analysis requirements with one rapidly deployed, cost-efficient product. Rocket® CorBusiness® solutions provide interactive reports, graphical analysis, pivot tables, ad-hoc reporting, and forecasting to your business users. They can build purpose-specific performance analysis and decision support systems — no SQL or programming skills required.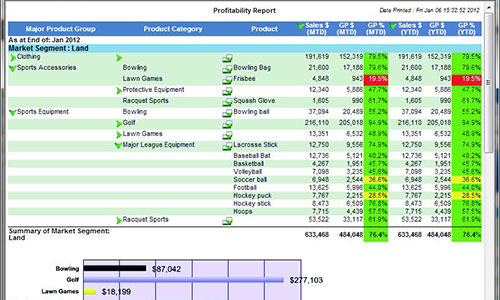 Rocket CorBusiness
Easily access any data, including multiple data sets
Accessing disparate data is easy with Rocket CorBusiness. Business users can access data from any source, including ERP systems, relational databases, OLAP Servers, XML, flat files, or any ODBC-compliant data source. Plus, you can access multiple data sources simultaneously. View your data in a tree view, list view, or in an Entity Relationship Diagram. CorBusiness makes business analysis so easy that even the most infrequent, non-technical user can look like a superstar. 
Data analysis is a breeze with our wizard-driven user interface and templates that speed object creation. Under the hood, the meta-data layer simplifies the data presentation for end-users, while built-in security ensures that data is safe and sound.
Visualize your data your way
Rocket CorBusiness offers a wide range of visual formats, including reports, dashboards, pivot tables, and numerous graph types. Customizable indicators and wizard personalization for configuration settings ensure that you — and your executives — can view your data and receive notifications any way you want.  
We designed our interactive analytical reports to help decision-makers make sound business judgments. You can view your data at a high level or dive as deep as you'd like, with multi-level drill down across and through data, filters, formulas, summarization, aggregation, color-coding, sorting, and categorization. CorBusiness even provides sophisticated modeling and "what-if" analysis, time series forecasting, and a range of popular data-mining algorithms. Plus, you can view your data whenever you'd like using ad-hoc reporting through simple wizards.
Automate reporting
Rocket CorBusiness lets you automate any reporting process and schedule report creation with a built-in scheduler module. Plus, with CorBusiness's fast report replication feature, business only need to build a report once; the freshest data populates the report whenever it's needed — or scheduled. IT gets a clean and efficient way to engage the user base in report-distribution tasks.