Rocket AS
Query, reporting, visualization, & application development for IBM zSystems
Rocket AS software enables you to quickly access the data you need, analyze and interpret data to gain insight into your business, and present that insight in a way that's aesthetically appealing, streamlined and simple. Plus, AS allows you to build these capabilities into your own line of business applications, and integrate with other systems or applications.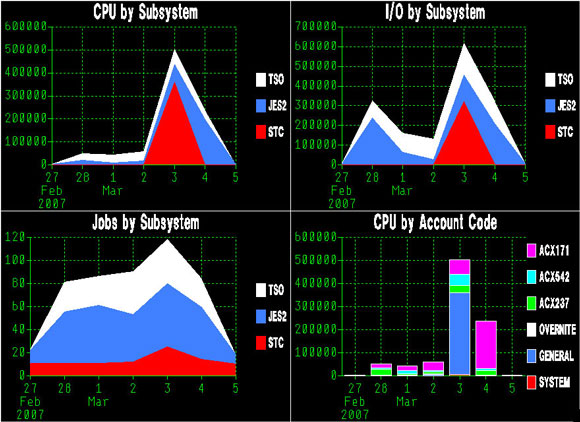 Multiple charts showing key details of z/OS
Unleash the potential of your IBM Z data
Rocket AS gives you comprehensive access to IBM zSystems mainframe data. These include relational data sources such as Db2, whether on local or remote mainframe systems, and non-relational data sources such as external files and VSAM. So, you can turn your data into useable information regardless of its source.
Rocket AS runs in a IBM zSystems environment under z/OS and z/VM operating systems, and is available in 17 national languages. It also operates as an "Intelligent Server" for multi-platform clients. AS includes 3270 and Eclipse-based user interfaces for both the development and running of applications. The extensive application development capabilities provided with the AS 4GL Language enable the creation of world-class IBM Z applications that can be used by 3270 and Windows users alike.
The powerful tools in Rocket AS allow you to turn data into information that can be used in mainframe and PC clients. AS is capable of handling a broad range of tasks from simple queries to multi-dimensional data analysis. It also provides specialized statistical capabilities, powerful linear programming and modeling, and project management facilities. In addition, you can use AS to build custom procedures to automate data analysis and repetitive tasks. These automated procedures enable you to streamline data and expedite tasks for you, your department, and your organization.
Create customized solutions, for client/server and beyond
With Rocket AS, you can easily produce formal reports on an ad-hoc or scheduled basis to satisfy simple inquiries or complex analyses. Then you can use AS text processing with data to create readable, professional documents. Better yet, AS enables visual communication of your data through charts, pictographs, illustrations and icons. All of this is possible on your mainframe or PC.
AS can be combined with PC software to leverage the strengths of both environments. It can select and analyze data so that PC users get just the data they really need, and will deliver that information from the mainframe directly to your favorite PC package. From there, you can use many industry-standard Windows, Linux, Unix and web products as clients for information provided by AS.
With the many PC integration capabilities—including .Net, Java, ODBC and ActiveX—you can build custom-made client/server solutions. AS gives you simple ways to prompt for parameters on the PC, produce information at the mainframe, and populate your PC application immediately with the results. With AS, the types of mainframe and client/server solutions you can create are nearly limitless!
AS offers access to its powerful development tools from a wide array of clients including the modern GUI of the Rocket AS Multiplatform and mainframe clients. Additionally, you can use your favorite PC products as clients with one of the integration capabilities mentioned above. Plus, AS supports exchange of information via ODBC, HTML, CSV, DDE, FTP, Clipboard and ActiveX.