Ensure your application adapts for continued ROI
You've developed and improved your application and have loyal customers who rely on it. As your business has changed, Rocket MultiValue (MV) has made it a priority to deliver what you need to support that change.
Your top business challenges and requirements are critical to the MV roadmap development and delivery, including innovations in security, using modern languages and tools, and enabling fresh experiences with APIs. The newest security protocols, Python and Visual Studio Code compatibility, and free tools for quickly and easily creating feature-rich APIs are just some of the latest technologies we're enabling on Rocket MultiValue.
Create new business opportunities
and increase revenue
Adding new features to your proven MV app that your u sers and customers demand is a given. But you also need to deliver those new features quickly which means increasing the productivity of your development team and adopting speed to market as a mantra. By harnessing the strengths of the new Rocket MultiValue Integration Server (MVIS), a free tool to our customers on maintenance, you've taken a giant step to quickly adapting and modernizing your workhorse MV app. Quickly creating and publishing RESTful endpoints and employing Continuous Integration/Continuous Development (CI/CD) helps you get new features to market faster and with greater reliability, so your organization delivers what your users and customers need fast, exceeds market expectations, and takes advantage of revenue opportunities. Eurotunnel Le Shuttle adapted their MV-based reservation system, using MVIS, to take advantage of new business opportunities and generate additional revenue.
Eurotunnel Le Shuttle

The Rocket suite of tools has been the answer to all our needs. Python is mitigating longer term risks of an aging workforce, and we're providing quite a lot of modernization with it and MVIS. The MV platform continues to evolve to meet new business needs, making it the logical choice to modernize as we move towards connected microservices rather than a monolithic application architecture.

Geoff Bishop
Eurotunnel Le Shuttle
Rocket UniObjects for Python: The Full Python Package
At Rocket, we believe in the power of your MultiValue-based application and see it as a strong foundation at the core of your business. That's why we've developed Rocket's UniObjects for Python (UOPY), bringing our Python solution to full stack. With UOPY and u2py, your MV AppDev team has everything it needs to develop in Python, from web server to database back end - helping you keep your business-critical apps, built on UniData and UniVerse, relevant.
Rocket's UOPY, a free UniObjects-based Python API, allows Python applications to access Rocket MV databases over the network. With UOPY, you can manipulate objects as quickly and easily as a traditional U2 application and capitalize on modern development technology for new GUI and web application interfaces.
It takes fresh thinking to keep business-critical applications modern and relevant. And modernization is about technology and talent. UOPY is all about technology and talent, enabling rapid application development in new, modern programming languages, while making it easier to attract and retain new development talent. One key to winning over top new talent: give them the opportunity to program in their favorite languages, like Python.
UOPY opens the Python ecosystem to your developers, so they can:

Rapidly create and enhance apps in response to market demand, with the help of Python's 330,000+ third-party libraries

Work in a language they're fluent in, instead of requiring training to learn BASIC

Use object-oriented programming for client app development — UOPY is an easy to use and Pythonic object-based client API

Capitalize on modern development technology for new GUI and web application interfaces
MV and Visual Studio Code, editing for the future.
MV partners and customers like you have told us they need to:

Modernize their internal R&D teams' development environment

Acquire the right tools to attract and retain the next generation of developers

Make code editing easier and more productive
That's why we created Rocket® MV BASIC for Visual Studio Code. It's a powerful extension for Visual Studio Code, the fastest-growing development tool, and a favorite of recent college grads, most of whom never learned BASIC.
We made it our mission to give your teams:

A one-stop, modern editor for BASIC programming that runs everywhere

Strong, reliable community support

Flexible customization and strong extensibility

Language-independent, cloud-friendly, browser-based development

Built-in Git commands
We designed Rocket® MV BASIC for VS Code to deliver all that and more.
Free download
30,000+
available extensions to enhance productivity
Source
Expand your capabilities. Imagine the possibilities.
Rocket® MV BASIC for VS Code offers six advanced editing features to help you modernize, simplify, and work more productively.

One-stop BASIC program editing, through a JSON-based language server protocol (LSP)

LSP editing features include highlighting, go-to definition, find reference, hover documentation, rename variables/functions, code folding, auto complete, formatting and more

Code outlining for variables, functions, subroutines, and labels

Automatic grouping of files in tree view

Customizable configuration options

Detailed documentation
If you're ready to take your BASIC editing to the next level, Rocket® MV BASIC for VS Code is ready for you now.
Join the discussion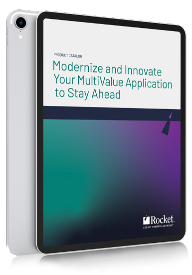 Product Catalog
Plan your upgrade now
We want you to get the most value out of your support and maintenance investments and be able to take advantage of vital modernization options. We can help extend the ROI of your proven applications by giving you the best experience, performance, and service. Upgrading your MV application platform and being on a GA release is a best practice.