Mastering Content Modernization with Hyperautomation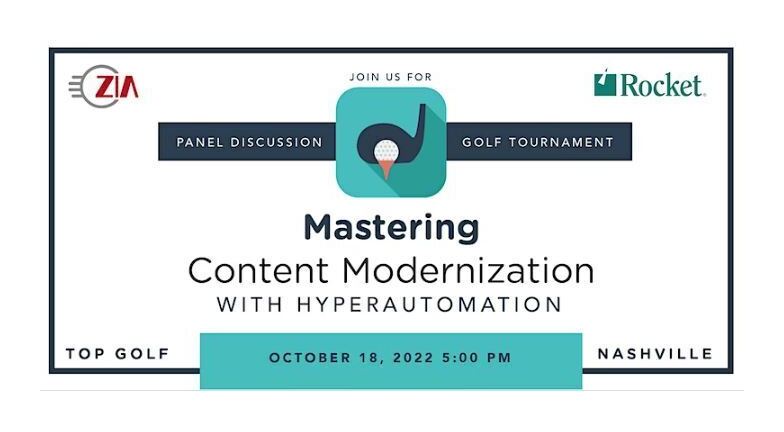 Event details
5:00PM – 8:00PM CDT
Topgolf Nashville
500 Cowan St
Nashville, TN 37207
United States
Is your company ready for Hyperautomation?
Hyperautomation is a business-driven, disciplined approach that organizations use to rapidly identify, vet, and automate business and IT processes. Companies use Hyperautomation to complete a variety of tasks so that staff can focus on work that requires a higher degree of precision and critical decision-making. It is especially useful for companies that are increasingly pushed to perform better and faster with fewer people and less money.Join Rocket and Zia for this expert panel discussion where we'll show you how to:
Get the first step right and cut processing time in half, from receiving documents to delivering to business owners.
Pull down siloed walls and bring rich context to each business decision.
The three best approaches for connecting 'hard to reach' applications.
Take steps to reduce risk exposure without slowing down your path to business wins.
After the conversation, you'll then experience unlimited golf and networking in Nashville's high-tech driving range. Whether you're an aspiring golf pro or picking up a club for the first time, Topgolf is everyone's game.
This event is by invite only, please reach out to your Rocket Software rep or [email protected] if you would like to attend.