Gartner® 2023 NA IT Infrastructure, Operations & Cloud Strategies Conference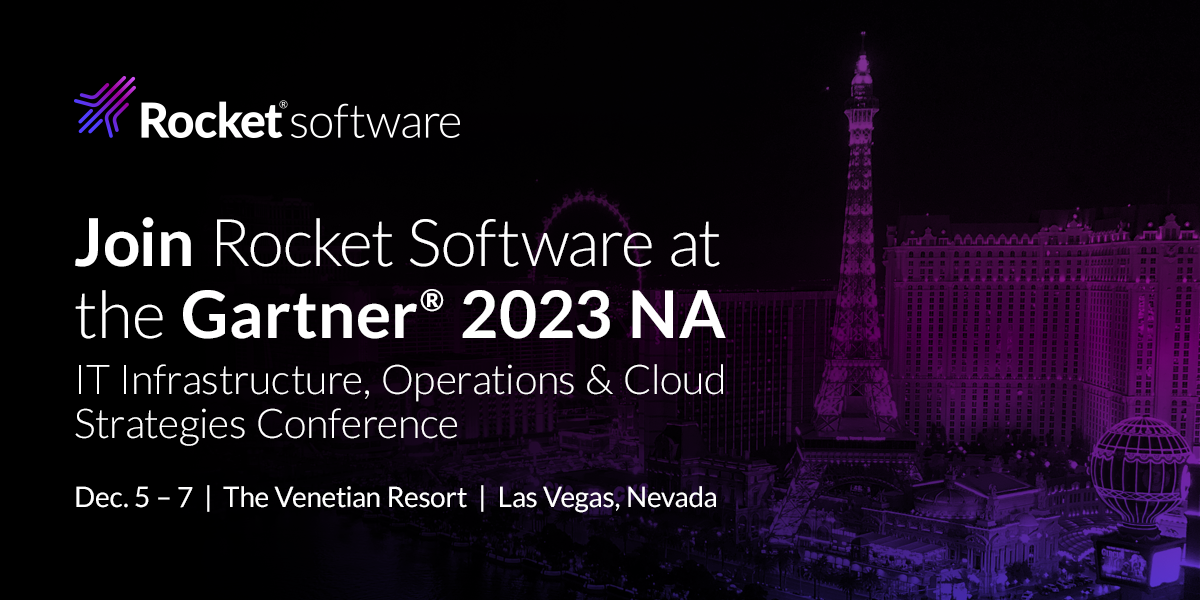 Event details
The Venetian Resort
Las Vegas, NV
United States
Register
Gartner® 2023 NA IT Infrastructure, Operations & Cloud Strategies Conference
For the second consecutive year, Rocket Software will be a premier exhibitor of the Gartner® IT Infrastructure, Operations & Cloud Strategies Conference. We'll be joining the world's leading technology visionaries on the exhibitor show floor and on the mainstage in front of thousands.
Meet us there!
Hear first-hand from Rocket Software leadership on how you can leverage the strengths of the mainframe and the cloud to modernize without disruption.
Join Rocket Software's thought leaders for a lively discussion on how to use modern tools, such as AI and automation to improve business process efficiency while reducing risk and cost.
Meet Rocket Software onsite experts and learn how you can solve your most complex IT challenges with solutions that's simplify your modernization journey.
Engage with brand ambassadors and exciting booth activities, plus so much more.
Where to find us!
Talk to our Rocket experts and see demos at Booth - # 323
Attend our Sessions:

Tuesday, Dec 5 at 11:45am PT – Unleash the Power of Your Secure Mainframe with the Cloud
Thursday, Dec 7 at 11:00am PT – Rocket Software: When AI, Automation, and Content Intersect: Rumor vs Reality
For more information, visit here.