Rocket LegaSuite GUI
Go from green-screen to GUI
Embrace the anywhere, anytime workplace
You rely on mission-critical enterprise applications to run your business. Now you can deliver your green-screen applications to GUI, Web and mobile clients that your employees, partners, and customers can access any time and anywhere. 
 
Modernize a little, or a lot
Quickly create dynamic Web GUIs from existing application green-screens. Invest a little more time and add new functionality, improve application workflow, and integrate with databases and Web     and desktop applications. LegaSuite lets you modernize what you need and ignore what you don't.
Reuse just about any green-screen application
Don't take on the risk, cost, and time of porting code to another platform or buying an off-the-shelf solution with only some of what you need. Get more mileage from the IBM i, mainframe, and UNIX green-screen applications you already have by transforming them to new GUIs, Web and mobile applications. You'll save money and see results faster.
Be a team player
No developer should be an island. LegaSuite is built from the ground up to support team-based solution development when transforming green-screens to GUI, Web and mobile clients. Extend the    benefits to your application users too—LegaSuite provides a variety of collaborative features for users like email notifications and SMS integration.  
Deployment choices galore
Data center. Cloud. Internal server farm. Virtual or physical hardware. Or right on-board the mainframe or IBM i. Deploy your GUI solution from almost any platform that supports an application server. Access it from all the devices people like to use to work and play.
Features
Scale to meet business demands
We don't discriminate. Small, medium, and large organizations all deploy LegaSuite GUI solutions. So whether you need to support a handful of users or thousands of users, the LegaSuite deployment architecture is designed to scale and deliver the best performance possible.
Proven technology
The LegaSuite GUI runtime engine has been extensively load-tested by Rocket Software, our customers, and independent third parties. In CPU and memory utilization tests, individual runtime processes demonstrate consistent performance characteristics and scale linearly: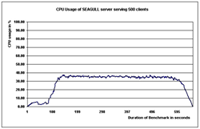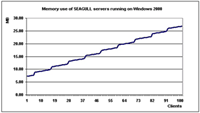 Fig 1. scale up under large loads Fig 2. Scale up linearly In larger installations and high availability situations, multiple GUI runtime instances can be deployed to multiple physical or virtual server platforms. Connections can then be managed by a load balancing appliance or software.
Enterprise-proven scalability and high availability
The LegaSuite GUI runtime engine is built to scale and is deployed in some of the largest organizations in the world, supporting thousands of concurrent users, from 3,000 up to 75,000 users on high-end quad processor servers. What's more, it's designed for high availability and load-balancing. You can leverage load-balancing hardware and software to manage runtime loads. If a runtime instance or an entire runtime platform fails, new requests for service are automatically routed to the remaining or backup runtime instances.
Complete security model
LegaSuite is designed from the ground up to honor the security on the source platforms of your existing applications. Users cannot access functions or data through LegaSuite if they are not allowed to access them in the underlying source platforms. LegaSuite only enables what the source applications allow. In addition to honoring all mainframe, IBM i, UNIX, and OpenVMS, and Windows platform security, LegaSuite offers additional security features at development time and runtime.
Component security
LegaSuite GUI security starts at development time. LegaSuite components are digitally signed, making tampering impossible. You have the option of encrypting the GUI interfaces during publication, making it impossible to decompile or hack individual GUI packages or gain any information about the organization if these packages fall into the wrong hands.
User authentication
At runtime, LegaSuite supports all host platform user validation features and offers several additional methods of user authentication. You can use Kerberos and LDAP-enabled user stores like Microsoft Active Directory, Oracle Identity Manager, and IBM Enterprise Identity Management to provide authentication and single sign-on capabilities. LegaSuite does not maintain a separate, proprietary user authentication database, enabling you to control access to your modernized, Web-enabled applications the same way you control access to other resources.
Data encryption
Encryption is critical for securing your application data. LegaSuite GUI supports HTTPS, SSL, and SSH encryption at both development time and runtime, ensuring the integrity of your data in transit throughout the LegaSuite architecture.