Why Rocket Open Web Launch (OWL)?
Why Rocket Open Web Launch (OWL)?
Java Web Start (JWS) by Oracle Corporation lets companies run Java applications outside of browsers, helping developers address compatibility issues. JWS support was removed from Java 11 and licensing for Java 8 changed in April 2019, putting organizations worldwide—including many Rocket customers—in the difficult position of deciding what to do with their environments.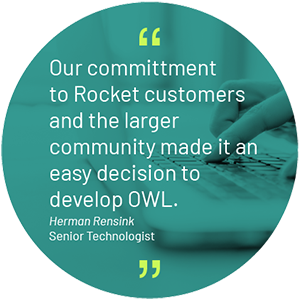 OWL is open source
After hearing about this issue from a number of our customers, we decided to develop a solution. Rocket Open Web Launch (OWL) is an open-source solution that's easy to set up, easy to use, and available to anyone who needs it. It's designed to run any application as configured in its JNLP file against a Java version which may no longer officially support Java Web Start.
Easy to install and implement
Tying your applications to Java 11 is simple with just a few simple clicks. OWL doesn't demand hours of your time for installation and setup. Within minutes of downloading Java 11 and OWL, you can be up and running.
Questions? Call us: U.S. +1 855-577-4323