Rocket Mainstar Catalog RecoveryPlus
Minimize risk with uninterrupted access to data
Rocket® Mainstar® Catalog RecoveryPlus software ensures access to business-critical data. Storage and system administrators now have more control over the integrity and availability of ICF catalogs, the key control structures for data access. Reduce application downtime, prevent catalog problems from becoming business problems, and support a 24x7 organization with confidence.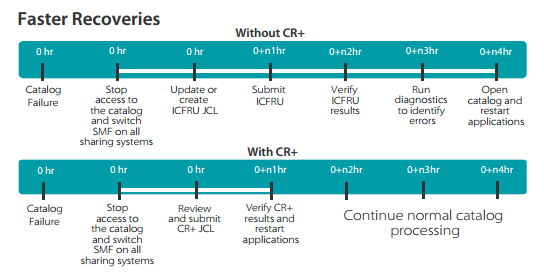 Dramatically speeds data recovery
Flexible and easy-to-use
Because ICF (Integrated Catalog Facility) catalogs are the key control structures that provide access to IBM® z/OS® data, protecting them is critical. Rocket Mainstar Catalog RecoveryPlus (CR+) enables your storage and system administrators to operate and maintain healthy and efficient ICF catalogs.
Mainstar Catalog RecoveryPlus provides an easy-to-use, flexible way to centrally manage and protect ICF catalogs. You get the capabilities you need for safe, reliable backup and recovery. CR+ significantly improves the integrity of the structures being backed up, with the industry's highest backup speeds. Proactive diagnostics simplify day-to-day ICF catalog management and maintenance, flagging and correcting inconsistencies between BCSs and volumes.
Is 24x7 a requirement? You can perform a reorganization and repair operation on a BCS while it's in an open and active state, or move entries between catalogs in a non-invasive manner while data sets are open.
Reduce the financial impact of catalog outages
Rocket Mainstar Catalog RecoveryPlus dramatically reduces the financial impact of catalog outages by reducing the risk of failure, increasing the speed of recovery, and improving administrator productivity.
Questions? Call us: U.S. +1 855-577-4323