Rocket EOS 360
Mainframe output management that drives efficiency and increases security
Simply providing access to reports and data on the mainframe is no longer enough for today's stakeholders. Your users—whether they're employees, partners, or customers—increasingly expect a more modern digital experience and efficient workflows. And with more regulation and restrictions across the world impacting data security, you're expected to protect all data, regardless of platform. Rocket® EOS 360 integrates with mainframe environments to capture output from applications, manage the storage of that data and provide fast and secure access for users.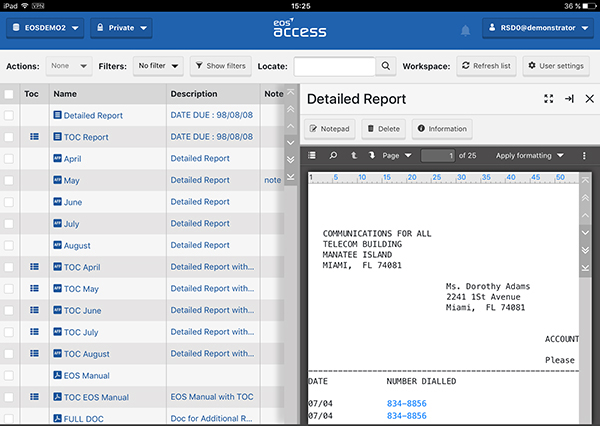 Quickly improve output management efficiency
Rocket EOS 360 allows you to allocate precious MSUs to business-critical applications, improving the efficiency of your output management system.
Rocket EOS 360 Platform:
EOS Server: Integrated components for storing and managing the data

EOS Process: High speed, scalable ingestion of large data streams

EOS Cockpit: Insight into EOS activity

EOS Protect: High level encryption module to secure sensitive data

EOS Access: Secured access to reports from any device through a modern interface
Improve user experience and optimize workflows
Rocket EOS 360 provides a modern user interface that helps you retain talent and the ability to integrate with web services to build customized experiences for users such as partners and customers.
Expertise in mainframe management
Rocket Software is helping a new generation of managers and stakeholders to not only understand and smartly leverage the mainframe, but also to merge modern technology with legacy infrastructure for a competitive edge and drive the user experience for today and tomorrow.
Questions? Call us: U.S. +1 855-577-4323