Rocket Consumption Insights for z/OS (formerly z/Trim)
Optimize MSU and reduce costs with actionable analytics
If IBM® Z® is the backbone of your enterprise's mission-critical applications, you've hit the trifecta of mainframe management challenges:
Optimizing MSU consumption

Driving down costs

Aligning your strategy with enterprise priorities and winning leadership buy-in
You may even have stakeholders calling for replatforming. But abandoning your core application investment can lead to increased costs and business risks. We know it can be hard balancing competing priorities and we're here to help.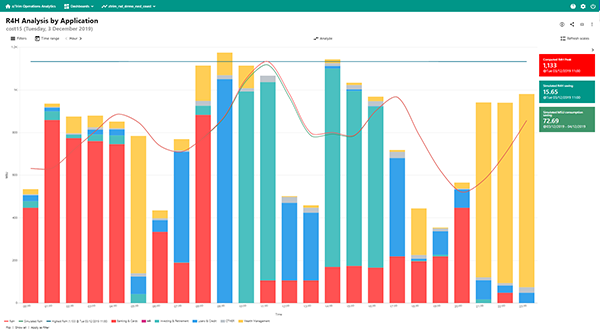 At Rocket Software, we have over 30 years of experience helping customers get more from their IBM zSystems.
We've leveraged all that expertise to create Rocket® Consumption Insights for zSystems/OS® (formerly zSystems/Trim).
It's the fast, easy way to enable optimization of MSU consumption so you can drive down costs and get stakeholders and IT on the same strategic page.
We invite you to discover for yourself how Rocket Consumption Insights can help you optimize without disruption and deliver significant value to your enterprise's bottom line. 
 
Five ways you can use Rocket Consumption Insights for z/OS to overcome key mainframe management challenges
Experience one-click insights: Quickly access a true, accurate baseline and near-real time analysis of mainframe consumption
Provide clarity to leadership: Easy-to-understand dashboards help you partner with key stakeholders to align mainframe processing with business priorities, and win buy-in for your mainframe optimization strategy
Realize positive ROI in months—not years: Translate actionable data into informed decisions that can help you seize optimization opportunities, drive down costs, and avoid MSU penalties
Save time and free up talent: Automate MSU consumption reporting with fully implemented capacity and performance analytics reporting that you can virtually use out of the box
Optimize without disrupting: Implement and have customized out-of-the-box dashboards in under a day, with no changes to your mainframe
Questions? Call us: U.S. +1 855-577-4323