Lower costs through better mainframe usage
Lower costs through better mainframe usage
When IT is constantly asked to cut costs, understanding the difference between business-critical and non-critical resource use is paramount. Rocket Mainframe Utilization & Analytics solutions help organizations reduce mainframe costs and drive better IT resource efficiency through mainframe output management, utilization, and performance analytics.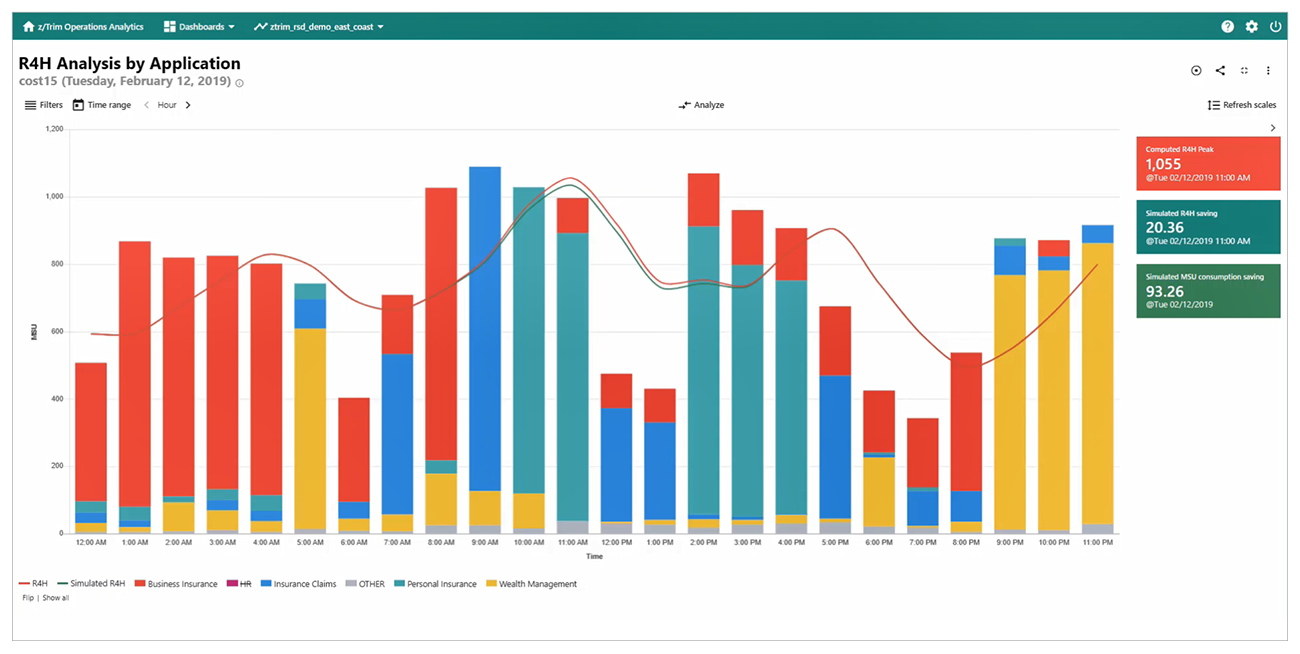 Use Rocket Consumption Insights for z/OS to better understand your mainframe utilization and performance
Rocket® Consumption Insights for z/OS®
According to IBM, 80% of the world's business-critical data reside on mainframes, but typical business stakeholders can find it difficult to access and understand all its usage data. In most situations, there's still room to improve the efficiency of this mission-critical platform.
Rocket Consumption Insights for z/OS allows you to easily visualize your mainframe resource consumption in one click. Rocket Consumption Insights provides insights into mainframe utilization and performance that can inform decision making for mainframe optimization and cost reductions.
Rocket® EOS 360®
Rocket® EOS 360 is an innovative, highly scalable output management solution specifically designed to meet the challenges of capturing, synthesizing, and delivering business content to end users. It gets information to where it's needed, in the required format, all while meeting enterprise content and records management requirements.
Rocket EOS 360 is available for IBM® z/OS® and open-source environments and is easy to install and manage. Compatible with multiple security models and packages, Rocket EOS 360 integrates easily so you can secure usage and access rights to your enterprise content. Rocket EOS 360 is optimized for end-user experiences, facilitating access to reports from any browser or mobile device with a new HTML5 web interface, within existing web applications via the use of RESTful web services, and via Microsoft Outlook.
Rocket EOS Bridge
Increasingly companies have hybrid solutions within their IT environment. With Rocket® EOS Bridge, EOS customers can leverage the hybrid environment to utilize open-source environments for the storage and online viewing of content while running core services on z/OS. The solution allows customers to use lower-cost platforms for viewing EOS reports, thereby reducing their overall mainframe consumption costs and driving better mainframe utilization.
Using Rocket EOS Bridge, many customers have reduced their MSU consumption by 5% on average.
Rocket Output & Extended Streamer
Rocket® Output & Extended Streamer are low-risk solutions to migrate your output management from the mainframe to Linux or UNIX servers. Move your mainframe content and job logs to EOS on open source and reduce your IT costs through improved mainframe utilization. Maintain and administer a single output management solution while enabling non-mainframe system users to easily access reports and mainframe job logs through an intuitive user interface.
"With an average of 120,000 documents a day and 1 billion documents archived in total, we continue to access our documents via our internal application without any impact on the access rate: less than one second!"
—Insurance company
Rocket Cloud Storage for EOS 360 & Folders
With Rocket® Cloud Storage for z/OS and open-source environments, you can connect your Rocket EOS 360 and Rocket Folders data across local, cloud, and hybrid-storage environments. Create new archives and store documents on any S3 compliant storage units, including Amazon Web Services (AWS).
Questions? Call us: U.S. +1 855-577-4323