Rocket DevOps Testing, deployment, and release management
Bring greater agility and precision to testing, deployment, and release
Why deploy, test, and release software manually when you can automate the process, which minimizes the risk of errors, improves verification, and saves valuable time and effort?  Continuous iteration isn't effective without continuous deployment, automated testing loops, and delivery.  
 
Organizations can enable true CI/CD (continuous integration/continuous deployment) by leveraging Rocket® DevOps' end-to-end automated deployment, testing, and release management capabilities. You can also automate packaging, shift testing left, and distribute new builds or releases to the right locations within your organization precisely and confidently. Rocket DevOps improves the precision of deployment and testing before code goes into production as well, and simplifies release management for development teams by minimizing the need to fix bugs or errors nearer to release.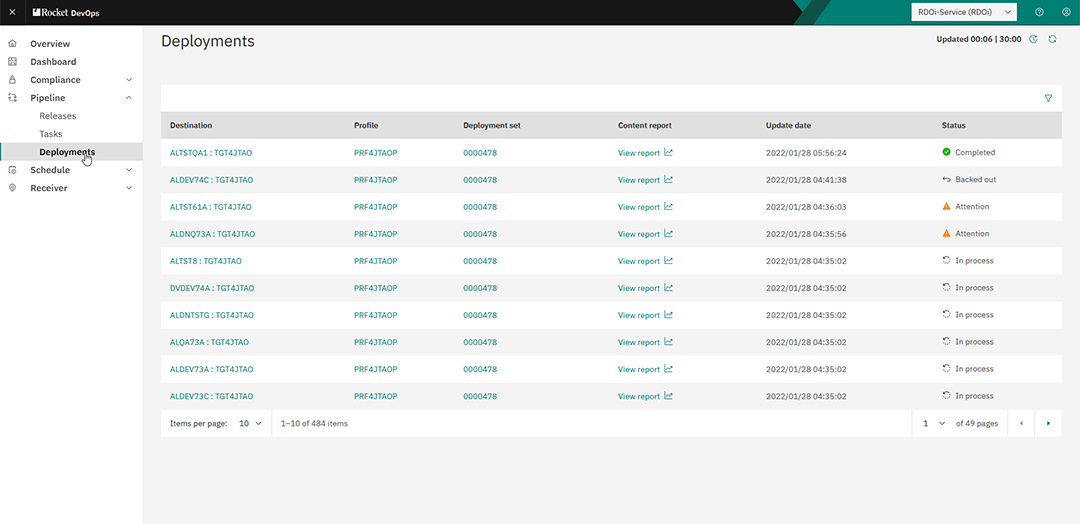 Deploy and release code to thousands of endpoints in one click. Quickly know what needs your attention so you can resolve issues and redeploy.
RPG Testing within an Agile DevOps Environment
The Rocket DevOps environment easily performs RPG unit integration and regression testing on IBM® i applications—whether the test scripts are interactive sessions or batch jobs. Because developers now generate test data from live systems in real-time and anonymize it, they can perfect code for more efficient and agile production builds in the future.
You can shorten lengthy and repetitive RPG testing and QA workflows, which typically occur within modern coding environments. When traditional and modern multi-code development is consolidated into a single DevOps environment, and governed by end-to-end automated deployment and testing workflows, development teams will be able to identify errors and apply fixes with greater agility before code goes into production.
Free Development Teams with Automation
Rocket DevOps' browser-based, system agnostic release management capabilities streamline releases or updates for builds, applications, and software. With Rocket DevOps, organizations get real-time visibility for all target systems and execute, promote, compile, and deploy file workflows within three mouse clicks. This enables developers to be the agile and responsive teams they need to be, equipped with end-to-end automated release and deployment management.
Utilize Leading Development Tools alongside Rocket DevOps
Rocket DevOps gives you the flexibility to leverage tools like Git, Jenkins, Jira, or a mix of multiple tools (including Rocket DevOps) for source control, while using it for process control and deployment to both testing and live endpoints.
Questions? Call us: U.S. +1 855-577-4323