Rocket DevOps Report Manager
Software insight and reporting for IT compliance
Our web-based Rocket® DevOps Report Manager reporting tool provides real-time visibility and reporting on software development data. You can generate the reports necessary for simplified audit compliance while managing timely software delivery.
Run IT like a business, with comprehensive management information and insight into all application development and maintenance activities.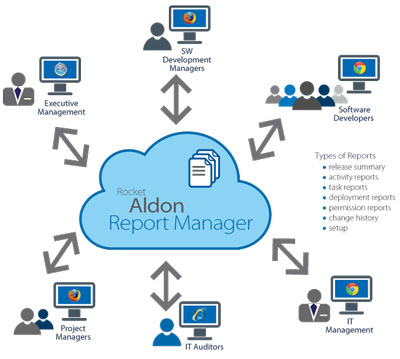 Run IT like a business
Rocket DevOps Report Manager helps you get complete visibility of your software development process. Business executives and development managers can work together in tracking, analyzing, and managing the backlog of change requirements and works in progress, ensuring that IT continues to deliver according to business priorities. Easily view management information at a glance, then drill down to the detail that you need.
Through our centralized home screen, you can easily select and run reports from one of our pre-packaged templates, or create customized reports to meet your needs. You can rapidly generate reports regarding task status, activity history, release setup, change request backlog items, permissions by release or by user, and lifecycle progress using selection criteria, so you can focus on the most pertinent information.
When the auditors arrive, you can easily and rapidly generate the reports they need to satisfy regulatory requirements.
Improve productivity across the board
Say goodbye to manually tracking activities through spreadsheets and emails. Rocket DevOps Report Manager makes everyone responsible for software development more productive.
CIOs can get the high-level information they need about a critical software project for the board meeting. Software development managers can see which projects are on time and on budget and which ones are running over. Project managers can get on-the-fly reports to monitor the progress of revisions made to a release. With real-time business intelligence like this, problems can be identified and corrected, resources reallocated, or deadlines adjusted.
Rocket DevOps Report Manager is easy to learn and use. It's built on a widely-used and actively-supported open source reporting technology, and works with data from Rocket DevOps Lifecycle Manager (Enterprise Edition) and Rocket DevOps Lifecycle Manager (IBM® i Edition).
Take the pain out of audits
Rocket DevOps Report Manager makes it easy to comply with internal IT best practices or regulatory requirements.
You can capture and monitor all IT engineering functions in an automated fashion from a central location while reducing the stress of preparing for an IT audit. DevOps Report Manager provides auditors with detailed documentation of the software lifecycle process setup and all day-to-day activities. Auditors can easily see verification information proving the integrity of your production environment. The Report Manager permission reports provide everything your auditors need: the authorized actions for users, role assignments, and role changes.
Our software's browser-based interface is simple to learn and understand so auditors can rapidly begin to generate their own reports when appropriate.
Questions? Call us: U.S. +1 855-577-4323