Hyperautomation Roundtable: Getting You to Your Goals — Faster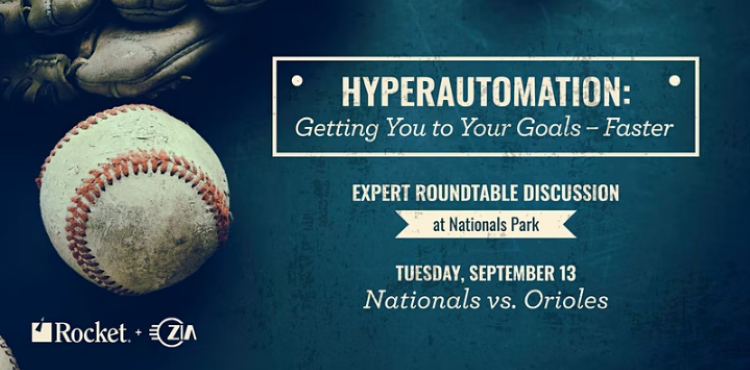 Event details
5:00PM – 6:15PM ET
Washington , DC
United States
During Uncertain Times, Hyperautomation Is Changing How Businesses Succeed
Hyperautomation is a business-driven discipline that leading organizations are leveraging today to rapidly vet and automate business and IT processes. Companies use hyperautomation to address repetitive, mundane tasks so staff can focus on work that requires a higher degree of precision and critical decision-making. It is vital for companies that are pushed to perform better and faster with fewer people and less money — especially across complex and legacy IT Infrastructures. Those who don't embrace hyperautomation are likely to be strapped for resources and fall behind their competition. Those who do embrace the journey use available resources to develop and deploy a hyperautomation strategy that delivers big wins for their business.
Is your company ready to level up with hyperautomation? Join Rocket Software, Zia Consulting and your local peers for this expert roundtable discussion on how to bring hyperautomation to your next project. We'll cover numerous topics, including:
Addressing IT Debt and Infrastructure Modernization with wins that further automate your business
Evolving end users' workloads — from redundant to high-value work
Understanding why contextual information is king — and its big impact for your business
Implementing Best Practices throughout your hyperautomation project life cycle
After the conversation, enjoy networking, dinner and the first game of the Nationals vs. Orioles Beltway Series in our private suite!
This event is invite only, please reach out to your Rocket Software rep or [email protected] if you would like to attend.