Simplify the Supplier Registration & Certification Process
Exchanging documents and data with colleagues, Suppliers and Trading Partners
In a manufacturing environment, the ability to quickly and securely exchange data and documents with Suppliers and Trading Partners is vital to maintain workflow, product quality and in many cases competitive advantage. Legal documents, certificates, product specs and customer requirements – the fast and accurate flow of information is critical.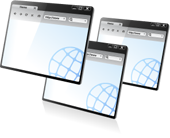 Email, FTP and manual information exchange methods are slow and inefficient
Sending supplier information and documents via email, FTP sites and other manual methods is a process that does not allow suppliers to update their own information online. This puts a burden on the manufacturer to request, scan, upload and track information by employees who are already stretched to the limit. Manually sharing data and documents with suppliers can also cause data to become disconnected from internal master data sources resulting in late, obsolete or missing information. And, the status of supplier information is often not visible in real-time sometimes creating unnecessary activities and duplicate documents
Faster Supplier On-Boarding & Profile Management
OEM's require a number of key documents when on-boarding new Suppliers and maintaining accurate records for those already on board. Documents regarding banking, environmental regulations, compliance, NAFTA, non-disclosure agreements, Minority/Diversity Certifications to Self-Assessment Questionnaires, Audit Reports, Portal Access Approvals or Supplier Surveys – need to be organized and up to date. As documents expire, keeping track of them can be a real burden.
Here's how TRUcentrix Eases the Supplier Registration and Certification
Automating the updating of supplier profile information and collecting all required documents to do business with a new or existing supplier.
Sending Suppliers automatic reminders when certifications and important documents are about to expire.
Documenting audits and tracking follow-up items following a visit to a Supplier's facility.
Automating the approval process by which a supplier or partner is granted access to a TRUcentrix user account through the use of eForms. In Aerospace & Defense – it is vital to validate user's citizenship & access rights prior to granting access to the system.
A multi-industry manufacturer used TRUcentrix eforms to automate access requests for a Supplier Portal:
Users requiring access to TRUcentrix or to their Supplier Portal must first be approved via a formal request process. Citizenship verification and access rights must be determined before a user login can be issued.
Before TRUcentrix, it was necessary to send an email with an attached document to a manager, export control person and server administrator prior to issuing a new user a login. This process took several days and there was no way to check on the status of a particular request.
With TRUcentrix, requests were processed in half the time and requestors could check on the status of their requests in real-time online – a faster process with real-time status.