Rocket UniData
Rocket UniData
Data server power and performance without the maintenance
Rocket® UniData® solutions offer outstanding performance, reliability, scalability and manageability. The combination of mature technology, advanced features, and low cost of ownership make UniData an easy choice for developers. That's why UniData has been used as the foundation for thousands of industry-focused solutions.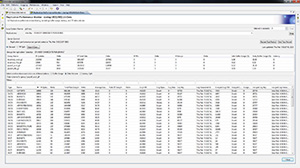 Configure UniData to replicate your data
Reliably fast, reliably easy
Rocket UniData provides a database management and application platform for software used by thousands of organizations. UniData has earned its reputation for reliable uptime and quick, reliable access to data over dozens of years in the field. Its exceptional scalability meets the challenges of demanding business environments. Continual advancements mean UniData is always ready for the next great business-driving application, from mobile deployments of your existing business applications, to the development of new solutions to meet your emerging business problems.
Good for developers, great for users
Developers need a database management system to underpin their applications, with dependable performance that won't limit their capabilities or slow down their work. Rocket UniData is a powerful development environment designed for transactional and analytical database applications. It meets the data management needs of any application running on desktops, the web, mobile devices, or the cloud.
Intuitive design tools and high-performance queries make UniData the developer's choice, and its small hardware footprint makes their applications appealing to resource-minded businesses, or resource-constrained deployment scenarios.
Mature and modern
Rocket UniData is the smart choice for developers in any industry. Its reputation for unsurpassed uptime levels, low cost of ownership, and dependable customer service have made UniData a proven leader.
At the same time, UniData is powering the next generation of applications. A steady stream of advancements includes new features built to accommodate the latest application capabilities including Internet of Things, big data, and location-based services. With 64-bit file support, 64-bit architecture, IPv6 support and account-based licensing, UniData enables barrier-free data management developers and users can trust.
Questions? Call us:
U.S. +1 855-577-4323