Rocket Mobile for MultiValue
Rocket Mobile for MultiValue
Accelerate application modernization for D3 and U2 users
Rocket® Mobile for Multivalue (MV) is an enterprise mobile application development platform that combines rapid mobile application development with application, identity, and security management plus analytics. Rocket Mobile for MV allows developers to use native MV tools to quickly and confidently extend enterprise assets as RESTful services to underpin new mobile applications.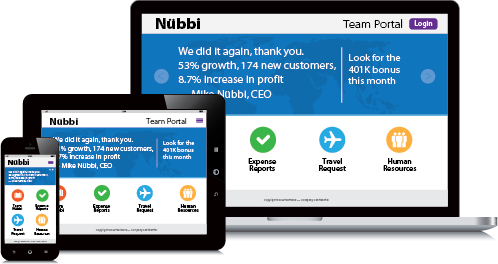 Fast, easy creation of mobile applications—no mobile experience required
Now, someone without previous mobile development experience can quickly build new mobile applications—no special coding skills are required with Rocket Mobile for MultiValue. Our wireframe builder simplifies development with drag-and-drop widgets and templates. Rocket Mobile's Smart Preview tools make it easy to iterate and test your work in real time.
Rocket Mobile helps you build applications with a native look and feel on both Apple iOS® and Android devices, or build custom applications that have a consistent look and feel on any mobile platform. Deliver modern, responsive mobile applications using HTML5 and CSS3, ®Adobe PhoneGap™, and JavaScript.
Enjoy multiple options for deployment, including web browsers, hybrid development, or PhoneGap integration to package and deploy to app stores with native capabilities. Operational insight measures and analyzes user behavior and engagement, giving teams the information they need to iterate quickly and improve the user experience.
Leverage valuable enterprise data and functions
Use your proven enterprise assets–including Rocket UniData®, UniVerse, D3, SB/XA and/or U2 Web DE–to create secure, managed, mobile applications without recoding your host applications or moving your data. It's easy to extend your assets to today's systems of engagement for customers, partners and employees. Leverage MultiValue RESTful services to accelerate integration with and reuse of your MultiValue applications. Our agile API gateway enables seamless access and sharing between host systems and your mobile applications.
Built-in application, identity and security management
Rocket Mobile's application management enables you to allow or disallow users or devices at a granular level. It automatically enforces minimum application versions so you aren't burdened with supporting outdated versions,
Identity management provides visibility and control over which users or devices may access enterprise assets and cloud services.
Security management gives users a single system of engagement to connect to, so your enterprise systems are not exposed directly to access by mobile devices. Rocket Mobile encrypts data on mobile devices and data in motion, provides role-based access control, and erases all data upon access revocation.
Questions? Call us:
U.S. +1 855-577-4323