Rocket Mobile for IBM i
Rocket Mobile for IBM i
Accelerate modernization for IBM i with enterprise mobility
Rocket® Mobile for IBM i is an enterprise mobile application development and deployment platform for customers who rely on the IBM® i system. Rocket Mobile solutions make it easy for enterprise users to leave proven applications in place on IBM i and rapidly repurpose them into new managed (and secure) mobile applications.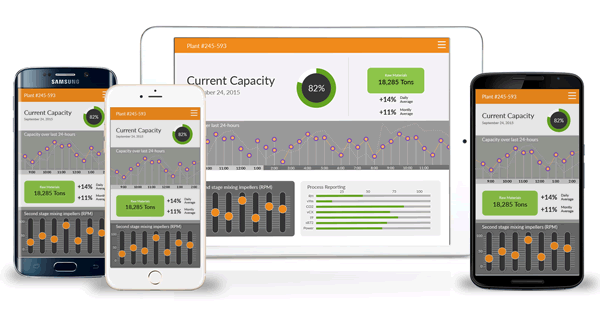 Built to Support Enterprise Mobility
Rapid reuse of existing IBM i development
With Rocket Mobile for IBM i, your developers can quickly build new mobile applications—no specialized coding skills or prior mobile development experience required. Rocket Mobile's built-in integration tools are complemented by drag-and-drop widgets to accelerate reuse of existing IBM i applications.
We make it easy to build applications with a native look and feel on both Apple iOS® and Android devices, or build custom applications that have a consistent look and feel on any mobile platform. Rocket mobile captures real-time metrics for operational insights into user behaviour and application performance, so your team can improve and iterate quickly to improve the user experience.
Enjoy multiple options for deployment: Rocket Mobile lets you deploy via web browser, hybrid development, or Adobe® PhoneGap™ to package and deploy to app stores with native capabilities.
Securely extend back-office systems to mobile
Built-in security management gives users a single system of engagement to connect with, so your enterprise systems are not directly exposed to access by mobile devices. Rocket Mobile's role-based access controls let you specify who can see specific data, which is encrypted both on the mobile device and in motion. If a device is lost or stolen, Rocket Mobile lets you erase the data on the device upon revocation of access.
Application management enables you to manage user or device access at a granular level. It automatically enforces minimum application versions so you aren't burdened with supporting outdated versions. Identity management provides visibility and control over which users or devices may access enterprise assets and cloud services.
Offline support allows users to keep working with their data even when a data connection isn't present.
Jump-start enterprise mobility for IBM i platforms
Rocket Mobile for IBM i is built to support enterprise mobility for applications that run on IBM i. Quickly extend your systems of record to new systems of engagement for customers, partners and employees.
Build and integrate: Rapid development & reuse of IBM i development
Manage and secure: Secure and insulate operational systems
Deploy and monitor: Enhance UX and mobile adoption
Questions? Call us:
U.S. +1 855-577-4323