Rocket® Discover 1.6 business intelligence software helps organizations gain more value from their existing IBM® Cognos® TM1, IBM Connections and Rocket MultiValue investments through native connectivity and integration. TM1 users can leverage the features and power of the TM1 engine, enabling business users to be more productive and make more timely decisions with their TM1 data.
Connections users can share data and dashboards, and engage in real-time discussions about business issues and potential resolutions. And for the first time, partners and customers using Rocket® D3, Rocket® UniVerse, and Rocket® UniData® Multivalue databases can easily create Dictionary "Views" that contain BI-specific columns and attributes that are necessary for visualization, as well as leveraging the full functionality of MultiValue sources.
Accelerate TM1 Usage
Improve productivity and work more efficiently using Discover to:
Easily create custom TM1 views with "slice-and-dice and store" functionality
Improve your TM1 ROI by empowering business users to leverage popular TM1 features such as subsets, attributes, aliases, and picklists
Work more effectively by executing TM1 TurboIntegrator (TI) processes from within Discover
Test a theory or enrich your data with ad hoc calculations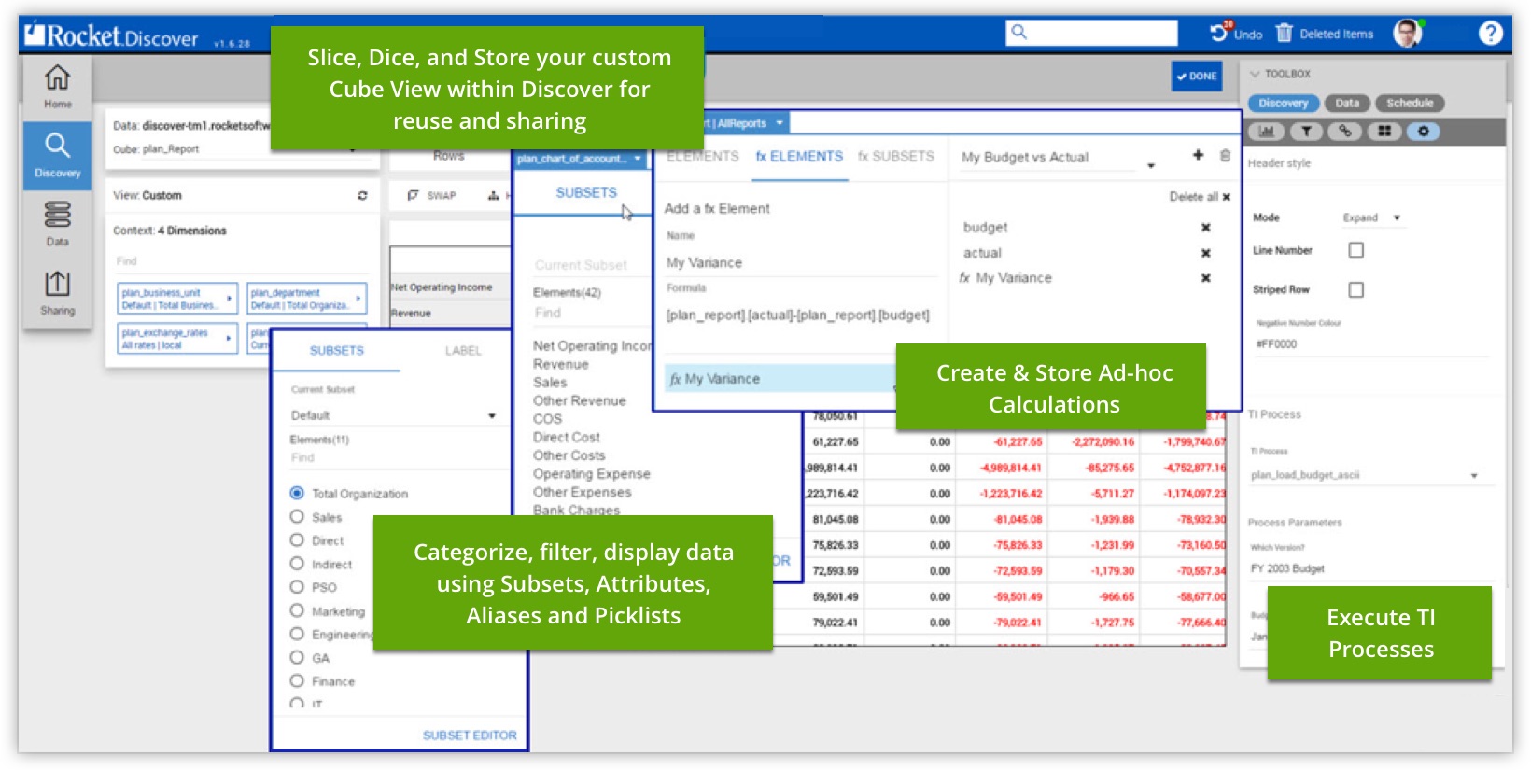 Additional Enhancements
Dashboard auto-play:

Near real-time data refresh when you have dashboards that rely on data that needs to be frequently updated

Scheduling and alerting:

Schedule query updates across all visualizations, keeping you up-to-date and ready to make the best decisions.

Exception alert notifications:

Email alerts are triggered when a metric crosses a pre-defined thresholds so you're always informed of the latest status and can react when problems arise

Measure correlation strength indicator:

A visual line is displayed to help you easily see the strength and direction of a linear relationship between two variables on a scatterplot.

Korean language support:

Expand your Discover community to include Korean teammates that can experience Discover's User Interface in their native language.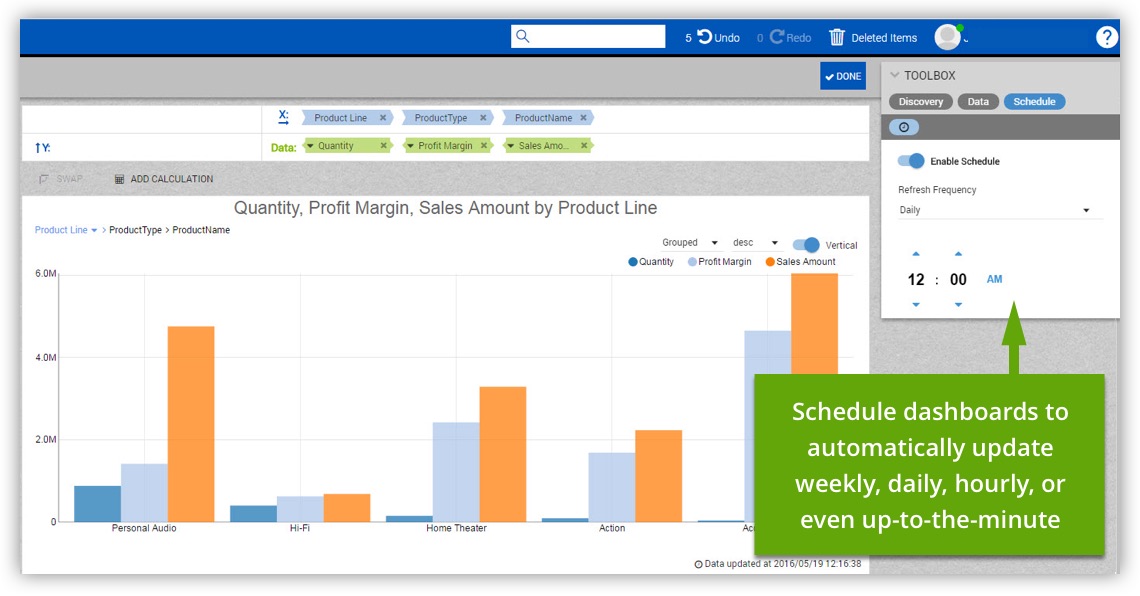 Connectivity and Integration with IBM Connections
Turn knowledge into action with an end-to-end integration with IBM Connections (an IBM collaborative platform) that lets you share and discuss Discover dashboards with IBM Connections Communities. The result is a complete collaborative BI workflow.

Share data files from Connections so you can instantly create a dashboard
Users will enjoy an integrated experience, with shared dashboards appearing as thumbnails that can be viewed seamlessly.
Collaborate with IBM Connections Communities directly from Rocket Discover, or collaborate with Discover users from IBM Connections.
Greater Connectivity
Rocket® D3, Rocket® UniVerse and Rocket® UniData
Get more out of your Rocket MultiValue investments with Discover when you leverage native connectivity to MultiValue data sources through secure web services, using out-of-the-box connectivity. A new MultiValue MetaData Manager allows you to manage and control your file dictionaries, simplifying BI administration of MultiValue data.
Once connected, the data enrichment canvas presents an intuitive user experience, enabling you to assemble queries against D3, UniData, and UniVerse. MultiValue data is transformed into Rocket Discover-specific result sets, which can be propagated across the full array of reporting/visualization capabilities within Rocket Discover, or federated with data from any other platform and data sources supported by Discover.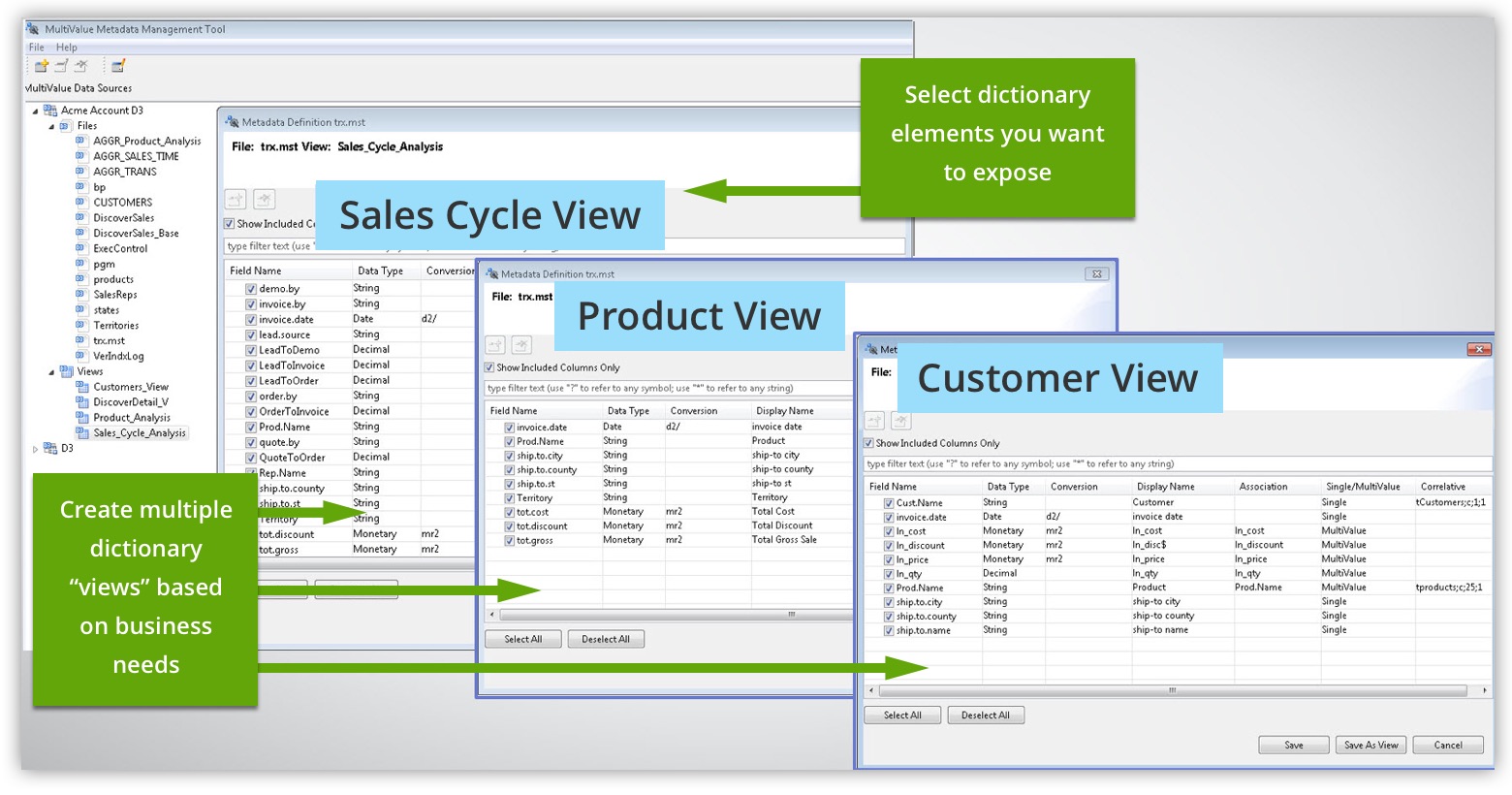 Rocket® R/Link
Access all files that R/Link can connect to for a more complete view of your business (R/Link features a file system connector).
Questions? Call us:
U.S. +1 855-577-4323