Reduce your reliance on IT with self-service tools
A simple drag-and-drop interface and, interactive eLearning, empower users
Rocket Discover gives executives, line-of-business owners, and other business users a fast and easy way to connect to, visualize, explore, and share data. This intuitive, self-service approach to BI provides deeper insights into enterprise data without training, or relying on IT. Discover can help you cut data prep time by 50% or more, prepare dashboards in minutes, and instantly share insights.
Rocket Discover Data Visualization and Discovery
Self service data preparation for a complete business view
Rocket Discover's data-enrichment canvas introduces a visually-intuitive environment built around seven simple operations that you use to work directly with data. Connect to disparate data sources and let intelligent guidance suggest join options and hierarchical structure to speed up the process. Data preview takes the guesswork out of cryptic column names so you can apply filters and calculated fields more easily.
When you have fully developed your enriched data set, leverage your work in other applications by exporting it to popular formats such as IBM® Cognos® TM1®. Discover brings it all together so you can visually understand the data. Now you have a data set that populates a visual display of important information—a dashboard.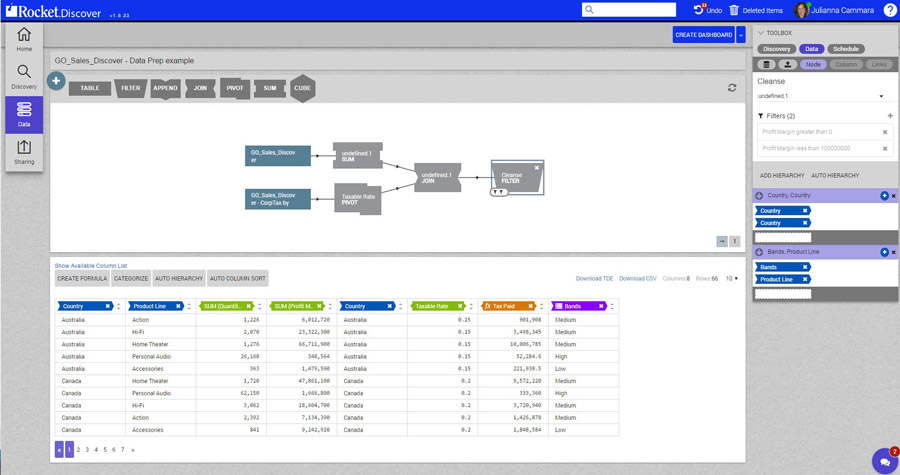 Self-service visualization for immediate discovery
With Discover's self-service capabilities, users create their own reports and dashboards using a simple drag-and-drop interface, and add fields, sort, filter, and manipulate data as the need arises. Ad hoc queries can be executed at a moment's notice, so no window of opportunity is too narrow.
An intuitive interface and built-in intelligence help guide users through the appropriate steps while significantly reducing the number of required clicks. Interactive eLearning modules are embedded, giving users a quick refresh when needed. With all of these out-of-the box capabilities, users can skip the IT queue altogether.
Questions? Call us:
U.S. +1 855-577-4323