Leverage the power of IBM Cognos TM1
Unleash the performance, speed, and power of your IBM® Cognos® TM1® Engine
IBM® Cognos® TM1® is a workhorse business solution for the technical users who harness its power. However, business users and executives can be overwhelmed by its complexity, and may lose precious time while relying on the TM1 administration team to gather data and build reports.
Rocket Discover and IBM Cognos TM Customer Story
Increase ROI by empowering business users to leverage TM1 features
Rocket® Discover provides a way for business users to easily access TM1 cubes. It lets them quickly create rich visualizations that expose trends, outliers, and historical data, to derive insights for planning and forecasting.
With support for TM1 subsets, attributes, aliases, and picklists, Discover makes it simple to customize visualizations for immediate needs. Execute pre-established Turbo Integrator (TI) process flows from within Discover and trigger processes such as archiving historical data or rolling periods forward.
Make smarter decisions based on blended dashboards and team collaboration
Easily develop reports and dashboards using data from all enterprise sources through a simple drag-and-drop interface. Add fields, filtering, and manipulate data as needed. Explore data through drill-down and automated analytics to reveal relationships and display anomalies. Team members can collaborate with colleagues on analysis and decisions directly in dashboards.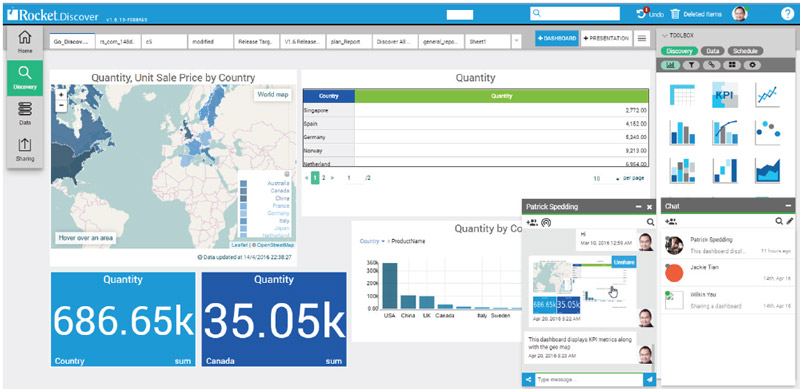 Questions? Call us:
U.S. +1 855-577-4323