Rocket Aldon Lifecycle Manager (MultiValue Edition)
Rocket Aldon Lifecycle Manager (MultiValue Edition)
Software DevOps and change management for MultiValue
Rocket® Aldon® Lifecycle Manager (MultiValue Edition) software provides automated ALM and DevOps tools designed specifically for Rocket® U2 and D3 MultiValue (MV) databases, code, servers, and tools.
Aldon Lifecycle Manager helps you increase developer productivity, coordinate development of multiple releases simultaneously, and improve code quality—all while simplifying IT audits.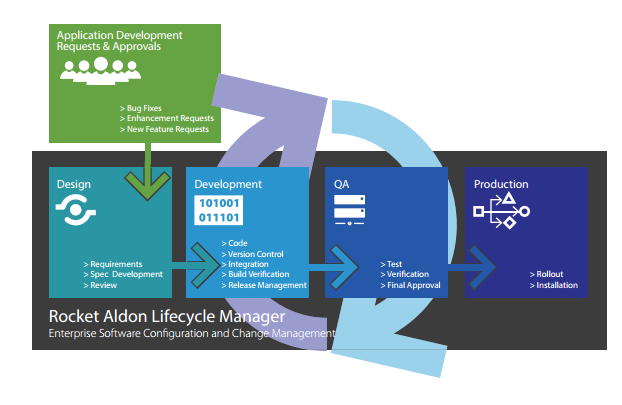 Automate MultiValue software release management and deployment
Rocket Aldon Lifecycle Manager (MultiValue Edition) automates the manual processes involved in delivering software changes. It reduces costs, ensures application integrity, delivers efficiencies, and speeds up delivery times. Using point-and-click change package promotion, users can easily and automatically move changes through the development lifecycle.
With the automated processes our software puts in place, you can do more with your MultiValue applications. Responding to changes in the business is faster and cleaner, and modernizing applications by integrating them with other applications, web sites, web services, and other data is less daunting. Compliance is built in and policies are automatically reinforced, taking that off your worry-list. You can also capitalize on distributed development and outsourcing. Our fine-grained control and role-based security let you create specific releases and modules for use by distinct teams, limiting the accessibility of code to outside teams. Release management is repeatable, documentable, and traceable.
With your new level of insight and control, persistent problems like source code change management—such as developers "stepping on" each other's code—fade away, and new business doors open.
Total visibility of software development across IT with a single repository
Rocket Aldon Lifecycle Manager simplifies even complex, multi-platform development for MultiValue users, giving you total visibility of your projects across IT.
From a single screen, you can track project status, view service request completion, monitor hardware and software requirements, and see who's working on what code. You are able to view each and every IT asset you have—applications, objects, projects—and what happens if you change them. You have comprehensive insight into development status—right down to the file level.
Meanwhile, a single repository keeps everything in one place. Users are able to work on a multitude of file types, and compare and merge files— all from multiple platforms. MV users can work from editors like ED, AE, wIntegrate, SB, SB/XA, BDT, and others. Windows developers can checkout and check-in their files directly via Visual Studio while Java developers can do the same from Eclipse-based IDEs.
Ready-to-go for Rocket UniData and UniVerse
Rocket Aldon Lifecycle Manager for MultiValue ensures instant productivity for Rocket U2 users. It features built-in support for Rocket UniData and UniVerse, for items such as programs, data dictionary Items, and schema changes. It also supports editors such as wIntegrate, AE, ED and, for the U2 development products, SB+ and SB/XA.
Programmers can access the programs and records they need directly via their U2 development tools and editors or from TCL/ECL. Right from the tools, they can perform checkouts, check-ins, promotions and deployments. They can associate the work they are doing with tasks and provide detailed information about the work they have performed.
Development teams can focus on project deliverables, avoid unnecessary disruption, and continue to operate within their preferred environments. Meanwhile, management always knows exactly where every project is and can prove it to senior management or auditors.